Essential things to pack for travelling + free PDF printable!
What to pack for a vacation? Not easy to answer.
Each vacation is different. You go to different destinations, stay in different accommodations, and travel in different ways.
But! There are essential things to pack for travelling that you need to take on EVERY trip.
Those things are easy to list.
All of these essential travel items, bar the hiking clothes, should be packed in your carry on if you're flying.
This post might contain affiliate links, which means that if you purchase anything via them, we might earn a small commission – at no extra cost to you. Check our affiliate disclaimer for more information.
As an Amazon Associate we earn from qualifying purchases.
Documents – definitely the most essential things to pack for travelling
It's understandable that wherever you travel, you need to take an ID with you. Many countries even require having identification with you at all times if you're a foreigner.
Just for safety, it's a good idea to have copies of your ID with you in case the original gets stolen, as well as saved on some kind of cloud service (Google, for example, offers it for free).
Check if your passport or ID is still valid, too. Some countries allow you to enter with an ID only, some require passports. Some require your ID to be valid for even 6 months after the end of your trip. In case you see that your passport will expire too soon, you can speed up the renewal by using websites such as PhotoAiD to at least get the picture ready.
And, before you travel, don't forget to save and better print out your Covid vaccine or negative test certificates. So, so many places now require it. We personally use an app that was made in Slovakia called GreenPass, but I know that there are countless options available.
I believe that you're not surprised to see wallet and cash on the list as well.
What might surprise you is, reservations and tickets, printed.
On more than one occasion I would have saved some nerve cells if I had a printed ticket or reservation.
Once, when on a bus on the way to the airport, my phone decided to die on me. Not discharge, actually die. As an environmentally conscious person I had my plane ticket only in the app, so I was looking at a 50 euro fee for a ticket print in the airport. Not happy, obviously.
Thankfully, the phone started working, but those were some very stressful 30 minutes there. Since then, I'm always printing my ticket, even though I mostly use the airline apps – if possible.
Speeeaking of the phone, don't forget your chargers at home! That wouldn't be pleasant.
As for the reservations, one of the times when a printed reservation would have been a good idea was in a hotel in the Canaries. We booked the room at a time when they had a "bottle of wine and dinner included" for the same rate as just a room and breakfast on hotels.com. We had to fight the receptionists to not charge us the dinner fee – 20 euros for a person – on 3 separate occasions because they couldn't see it in the system and couldn't print the reservation (broken printer).
So yes, although I don't like the idea of printing everything, it's possible to save some money and a headache this way.
Speaking of itineraries, it's nice to have some kind of a list of things you want to see on which day and their addresses, so that you don't have to think – so, what are we doing today? What's there to see in this place?
Plus, it's a good idea to have some backup options for the activities as well, as you never know what could happen. But that's already for a different article, haha, isn't it?
Essential toiletries to pack
Deodorant and makeup are probably self-explanatory. As are toothpaste and toothbrush.
What you might be surprised with is all the other items on this list, haha!
I usually take my own shampoo, hair conditioner, and shower gel (in the cabin bag appropriate sizes) with me even if we're going to stay in a "good" hotel. You can get empty travel-sized cosmetic's bottles on Amazon or in many brick-and-mortar stores as well, if you prefer those.
In 99% of hotels, the shampoos are so bad that I can barely brush my hair afterwards. And quite often we've been stuck with using the same soap for washing our hands in the sink and for taking a shower – it's just inconvenient. Many hotels, for that matter, provide only soap bars, which I despise, as they make my skin very dry.
As for the hand cream and lip balm, if you're going to fly to your destination, the air in the cabin is extra dry, so you might end up with very dry hands and lips. It just feels better to moisturize them. And even if you're driving, different climates (mountains, for example) or extra dry hotel air can make your hands and lips crack. Ouch!
Again, it's possible to get really small hand creams. I have a L'Occitane one that I usually take on trips. It's 30ml, so doesn't take up a lot of space in the bag, plus it's a cooling hand cream gel, which doubles as a first-aid against burns (do not touch your paella dish/pan with your hands, my friend!).
As a less-essential travel thing, usually, when we travel for a longer time (a week or more), I pack a little bit of a washing liquid with me instead of extra socks and underwear. It just takes less space.
Then, when I see that we'll need clean socks or something, I'll quickly wash them in the sink. Or, since we usually stay in apartments or houses these days, I'll just throw everything that's dirty in the washing machine.
Basic clothing items to pack for every trip
Always when travelling I take warm clothes with me – long pants, a jacket, a sweater, a shall wrap. Yes, even when going to warmer places like Hawaii.
As it turns out, you can be cold even in tropical destinations or in California in summer!
That's for a couple of reasons.
First, your body gets used to the warm air during the day, so the chillier evening seems cold. When we went to Yosemite and Michal was taking some sunset pictures, I had to put on all of the clothes that I'd packed in my backpack for the day. Thankfully, there were some warmer things. I was still cold, though.
Second, if you go to higher altitudes, it gets significantly colder! I was lucky in Hawaii that I'd packed my warmer hiking clothes as well. Did you know that they get snow in Hawaii?
Plus, if you're flying, it tends to get cold in planes. Even if driving, it's unpleasant to have the cold air of airconditioning blow on you.
The opposite is real as well – sometimes it gets quite warm in places even if it's supposed to be cold, so it's nice to have a t-shirt with you just in case.
When we went to Japan in November, we experienced +20 in Tokyo and then it was snowing a few days later! It was the first time in 50 years that that region of Japan experienced snow in November!
Luckily, we came from Latvia at that time where it's cold in November, so we had our winter clothes with us.
Anyways, as for the essential things to pack when travelling, such as socks and underwear, I usually pack at least one extra pair when going somewhere, as you never know what can happen.
Maybe you'll step in a puddle and make your socks wet and dirty on the last day when everything is dirty? Or pour a drink in your lap? Not a nice thing to worry about when you want to be out and about or are just about to go to the airport!
First aid kit – the essential things to pack for travelling
I'm not providing links for medicine, as I'm a firm believer in buying medicine in a pharmacy where a pharmacist can provide you with any essential information.
You don't need a professional or store-bought first aid kit. Some pain medicine and medicine for stomach troubles, plus a few other things, are all the essential things to pack for travelling you need.
It's better to have it and not use it than end up in pain in the middle of the night with no way to reach a pharmacy. And yes, again, I'm speaking from experience.
You don't need to go to a third world country to experience food poisoning – I once had incredible stomach pain, which most probably was from something I ate, in a 5-star all-inclusive in Tenerife! And Michal had problems when we were in Puerto Natales in Patagonia.
The same is true about bandaids – not nice to have painful blisters when you want to walk and see things. Especially if you are travelling with a goal to hike a lot!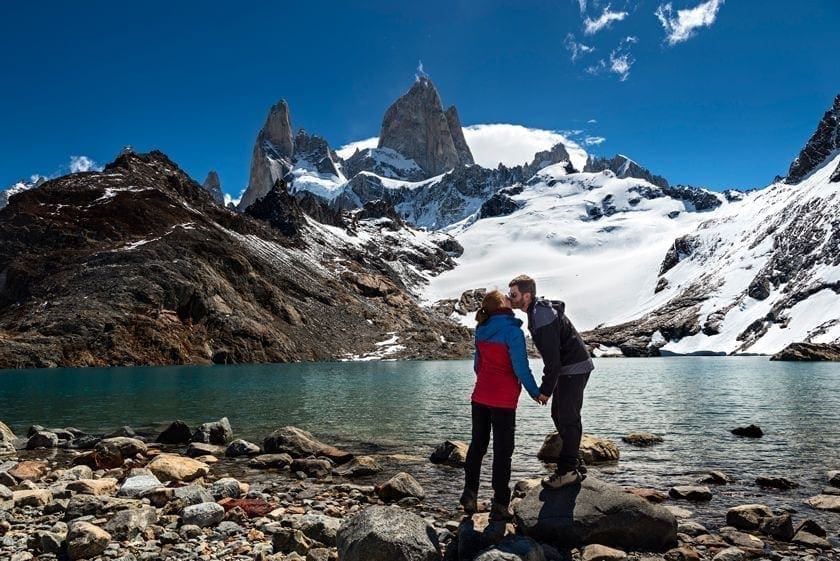 Antiseptic and sanitiser, I'm pretty sure, are must have essential things to pack for travelling in these interesting times.
If you need to take any medicine regularly, do NOT under any circumstances pack it in the checked-in luggage when flying! It is not possible to access the bags during flights!
Do not pack any of your essential medicine in the checked luggage. Flight attendants in most airlines will have a limited amount of medicine on board, and you don't know if you're allergic to what they have. Plus, if your suitcase gets late or goes missing, how will you replace it?
Plus, in case of stomach pain, they're not allowed to give you any medicine at all. Even if you're 110% sure that it's a period pain (yes, talking from experience here again), you won't get pain relief from a flight attendant.
Essential things to pack for travelling that should go in your carry-on
Every airline allows you to take a personal item bag on board.
If it seems too much to fit in a small bag (which might happen if you're flying something like Ryanair and don't want to buy the extra cabin bag), definitely just pack the documents and medicine with you.
You should be able to pack at least some clothes in the backpack. If not, wear them in layers.
Just make sure to have only a normal amount of clothes on – I remember reading somewhere that Ryanair will charge you for extra luggage if you wear like 5 t-shirts on instead of one 😀
And definitely pack toiletries like toothbrushes, toothpaste and deodorant with you on-board, as you wouldn't want to run around and buy them in case your checked-in luggage is late to your destination.
Another way to pack your stuff a bit more efficiently is packing cubes. They help you organize the things you need and save space in the luggage. I myself still haven't managed to buy them as Amazon's shipping costs to Slovakia are stupidly high, but many people I know swear by them. At last, I have the packing cubes, and they are quite convenient. I'm still unsure about the "saving space" factor, but they definitely are great for organizing things!
A non-essential, but good thing to have on you when flying, is an empty water bottle. Many airports have drinking fountains with clean water which you can use to fill in a bottle (and save a few euros doing so). If an airport doesn't have a water fountain, sometimes the tap water is ok to drink, too.
If you're looking for something more specific…
I've made quite a few other packing lists:
And then there are packing lists for
Last thoughts on travel essentials
Even after many years of travelling and even working as a flight attendant, there are times that travel packing makes me feel lost. Will I need this? What else should I pack? Oh hell no, I forgot insert an essential item here!
I should definitely make packing checklists for different types of trips – both for myself and for you, my dear friend!
But anyways, I think this list of essential things to pack for travelling is a good start.
Based on my experiences, these are the things that you always should have with you.
There will be people who object to some of these things. Are you one of them? Which ones would you not pack? What would you take instead?
Otherwise, I think this packing list is quite reasonable. Even after all these years of travelling I still go by – better have it with me and not use it than struggle at the destination.
---
Like this post? Pin it!