The ultimate Japan 10 day itinerary for first-time visitors
Visiting Japan will give you a shock. An incredibly interesting, absolutely unique and most definitely a very positive cultural shock. Our 10 day Japan itinerary takes you on a rollercoaster of amazing experiences that only Japan offers.
The freshest sushi in the world.
The unforgettable ride in a fancy Shinkansen that is never late.
The beautiful old Buddhist and Shinto temples and the ultramodern electronics stores.
The incredible food is a masterpiece of art.
The luxurious stay in a traditional Japanese inn with outdoor hot springs.
The majestic Fuji, visible even from the centre of the twenty million metropolis of Tokyo.
Sounds tempting? Then why not pack your kimono, practice the arigato gozaimasu with a friendly smile and get ready to explore this fascinating country. Our 10 day Japan itinerary is right here to help you plan all you need.
This 10 day Japan itinerary is especially suitable for first-time visitors to the country. The itinerary starts in Hiroshima and finishes in Tokyo. Based on your flights to and from Japan, or your other travel plans, you might need to add an extra day for travel arrangements or rest.
The itinerary can be travelled in the opposite direction as well and it also remains flexible. In this way, it allows you to add or remove days at certain places based on your interests, time schedule and budget. Japanese super-modern and efficient public transport, especially the trains, will be used during this 10 day Japan itinerary.
Now let's have a look at how exactly Japan will win your heart during these 10 days. Below the itinerary, you'll also find comprehensive information about accommodation, food, transportation, and budget. We also have a photo diary to complement this itinerary.
Note: There are strict COVID restrictions in place in Japan right now. Please check the website of Ministry of Foreign Affairs of Japan for more information.
Our 10 day Japan itinerary
Day 1 – Welcome to the Land of the Rising Sun
Tired, but happy – that's my usual feeling after a long-haul redeye flight, arriving to a new place. Japan is a really exciting destination, so let's get the passport stamped, exchange your JR Railpass for train tickets, perhaps experience your first earthquake already at the airport (we did!) and hop on the futuristic Shinkansen to get to Hiroshima where our 10 day Japan itinerary starts.
Day 2 – Dreamy Miyajima and surprising Hiroshima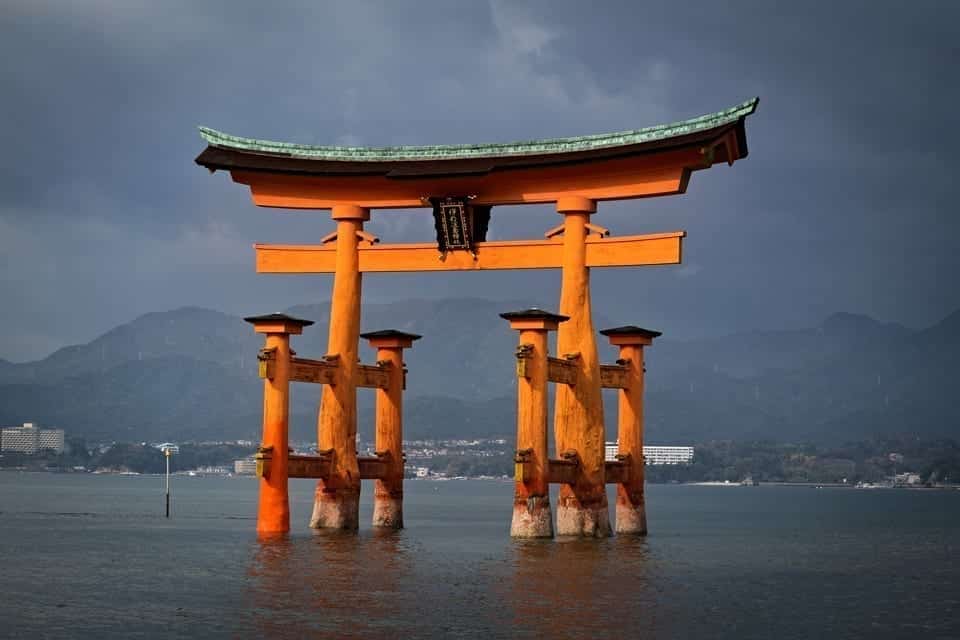 Japan is a land of contrasts, and the beginning of our 10 day Japan itinerary will be no exception to this.
Miyajima
Start your day with a half-day trip from Hiroshima to the beautiful small island of Miyajima, situated in Hiroshima Bay. There's so much beauty concentrated on this tiny romantic islet, waiting to be explored on feet.
Check out the Itsukushima Shrine and the Floating Torii gate. Explore the Daisho-In temple with the 500 Buddhist statues among other exciting things. Take a selfie with a deer (just watch out so that they don't eat your passport!) And just enjoy the picturesque streets of the romantic town.
Enjoy a delicious matcha ice cream before heading back to Hiroshima in the afternoon.
Hiroshima
Witness to one of the greatest tragedies in the history of humankind, today's Hiroshima is a modern metropolis with a friendly and pleasant atmosphere. While the solemnity of the Peace Memorial Park and Museum and the frightening skeleton of the Atomic Bomb Dome will be in sharp contrast to the romance of Miyajima, this place doesn't want you to leave depressed. Rather the opposite – learn from past mistakes, do not blame, do not seek vengeance and stay optimistic for a better future without nuclear weapons.
With this legacy in mind, visiting Hiroshima has an important place in our Japan itinerary.
Our tip: Based on your preferences, you may swap the morning and afternoon programmes for this day. Spend the morning in Hiroshima and then head to Miyajima in the afternoon and spend the night in a ryokan on this beautiful island.
While Miyajima sees a lot of daytime visitors, it is mostly a calm place in the evening – perfect for savoring its beauty, enjoying the view of the setting sun behind the torii gate of Itsukushima and getting pampered in a ryokan with some fine Japanese dining.
Days 3, 4 and 5 – Kyoto
On day 3 of this Japan 10 day itinerary it's time to move to undoubtedly the most beautiful Japanese city – Kyoto. It's about a two-hour ride from Hiroshima on the supermodern Shinkansen, arriving in Kyoto at around lunchtime.
Spend the afternoon with Kyoto's best – the southern Higashiyama district, which is best explored by walking.
First, spend some time enjoying the amazing Kiyomizu-dera temple, and afterwards just walk at a leisurely pace through the picturesque old streets where you'll feel like in ancient Japan and discover for yourself all the gems this place offers – numerous temples, cosy teashops, and romantic streets. To top it off, watch a beautiful sunset with a photogenic Yasaka Pagoda in the background.
Day 4 and 5 – Enjoy the temples, shrines, and gardens of Kyoto
With more than 1600 Buddhist temples and over 400 Shinto shrines, as well as gardens, parks, markets, and tempting culinary delights, these two days in Kyoto will be as busy as they'll be splendid.
On the morning of day 4, you'll be visiting Kinkaku-ji or the Golden Pavilion and Ryoan-ji with its mysterious rock garden with 15 scattered rocks and no plants.
For the afternoon, make your way to the northern Higashiyama district. Ginkaku-ji or Silver Pavilion with its stupendous garden is waiting to be explored. From there, follow the Philosopher's Path winding its ways southwards, discovering the various gems for yourself such as Honen-in Temple and finishing in the famous Gion at around sunset.
Will you be lucky to spot a geisha in this traditional district?
Start day 5 of your 10 days in Japan at another unique place – Fushimi Inari Shrine. Spend your morning walking through the thousands of vermilion torii gates – one of the most iconic sights not only in Kyoto but in the whole of Japan.
After lunch, head to Arashiyama district.
Visit the awe-inspiring Tenryuji temple, enjoy a relaxing walk through the mystical Arashiyama bamboo forest and get amused by the utterly photogenic and slightly cheeky macaques in the Monkey park, which also offers a superb vista of Kyoto.
If you still have some time to spare, perhaps hop on the Sagano Scenic Railway for a 25-minute sightseeing trip along the picturesque Hozugawa river valley, taking a cruise back to Arashiyama in the traditional Edo era boat.
Day 6 – Shinkansen to greet the majestic Fuji
It's time to leave the beauty of Kyoto behind and head for the beauty of Japanese nature, to the national park Fuji-Hakone-Izu.
This is the most relaxing part of our 10 day Japan itinerary, and also our favourite part of it. So hop on the Shinkansen again and head to Odawara. Change there for the local transportation to a place of your choice – we recommend staying in Gora or Moto Hakone.
Will you catch your first glimpse of the majestic Fuji already from the Shinkansen?
This is also a time when we recommend splurging – a stay in a great ryokan (traditional Japanese inn) with cosy onsen (hot springs) and serving exquisite kaiseki (Japanese haute cuisine) is definitely an unmissable part of the experience.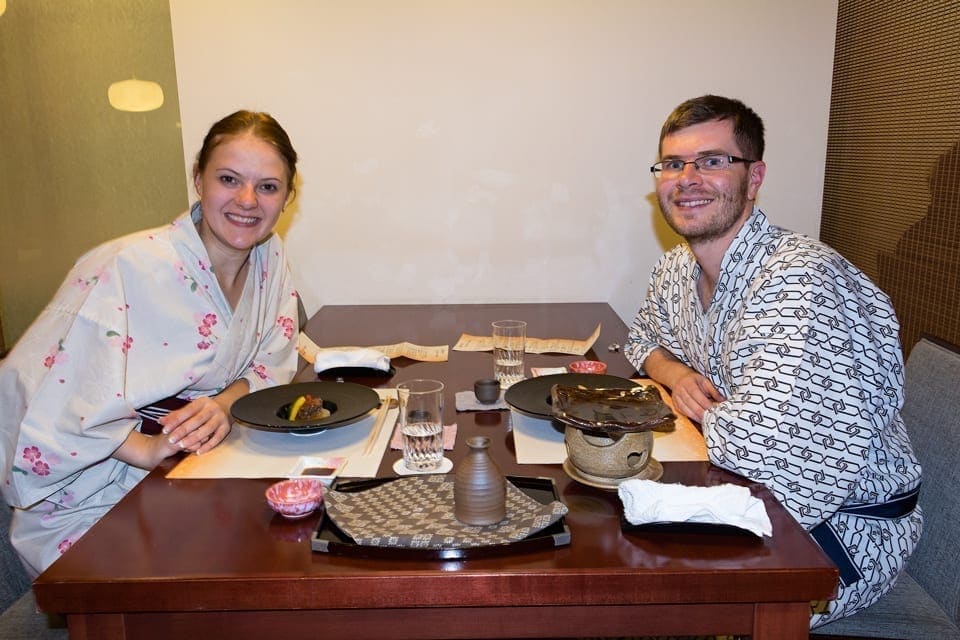 For the rest of the day, we recommend just relaxing and indulging yourself in the uttermost comfort of the ryokan. Unwind in the ryokan's onsen before heading for the mouth-watering experience of a kaiseki dinner.
Day 7 – Ryokan, onsen, Mt. Fuji and black eggs cooked in sulfurous volcanic water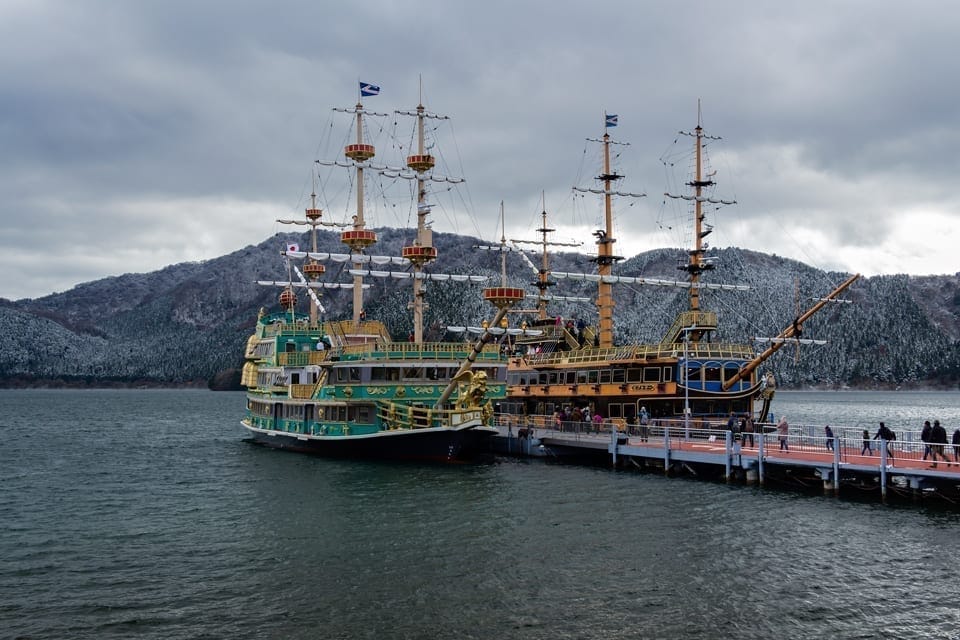 Today is the day to fully enjoy the beauty of the Hakone area.
We suggest making a one-way circle trip using the local means of transport: a cable car, a ropeway, a boat, a bus, and a train. Take a cruise on a historic pirate boat on the beautiful Lake Ashi with the majestic Mt. Fuji in the background. Enjoy a leisurely stroll along the lake to the Hakone Shrine with its picturesque torii gate at the shore of the lake.
Will you be lucky to spot a traditional Japanese wedding at this shrine? We were.
Admire the steaming Owakudani crater right beneath you from Hakone Ropeway.
For an absolutely unique snack, try a black egg at Owakudani. These eggs are boiled in the local sulfurous water, which colours the shell black.
Did you know the legend has it that one such black egg will add seven years to your life? 😊
Day 8 – The quintessential postcard view of Japan and Hello, Tokyo!
The stay in your ryokan is so amazing and relaxing and pampering that you don't feel like leaving? We know it – that's exactly how we felt. So, enjoy it as much as you can before moving on to the last stop on our 10 day Japan itinerary – Tokyo.
You may either opt for a straight journey to Tokyo via Odawara, or a more interesting one, although a bit more complicated one as well, via Kawaguchiko, located on the northern side of Mt. Fuji.
Here you would find one of the quintessential Japanese postcard views – Chureito Pagoda with Her Majesty Mt. Fuji in the background. A view that is hard not to fall in love with. So enjoy the magnificent view and take a few pictures before hopping on the train to Tokyo.
Day 9 – Contrasts of Tokyo
By the time you'll have arrived in Tokyo, you'll have noticed that Japan is a land full of contrasts. And guess what – Tokyo will still surprise you with how much this holds true.
Hip and trendy, traditional and down-to-earth, busy and loud and yet peaceful and calm… no matter what you're looking for, there's a good chance Tokyo has it.
On the first day in Tokyo, the next to the last day of this 10 day Japan itinerary, you'll be visiting the Tsukiji Fish Market (most of which is now moved to Toyosu fish market). With many restaurants and small shops, this is a fun place to walk around and savour the fishy experiences.
After enjoying the fish, take an automatic elevated train to the nearby Odaiba – a futuristic part of Tokyo built on a man-made island.
In the afternoon, move on to the Shinjuku district – think skyscrapers, the world's busiest railway station and plenty of shopping and entertainment options.
And as we promised some contrast, nearby is a vast Yoyogi park with a splendid Meiji Jingu shrine.
From there, head on to Shibuya, which is another modern district packed with shopping, entertainment and flashing neon lights.
Shibuya also has a famous bronze statue of Hachiko, a loyal dog who would come here every day to meet his master.
Day 10 – Contrasts of Tokyo continued
More of Tokyo's highlights are waiting for you on the last day of this wonderful 10 day Japan itinerary.
Start the day in the Akihabara district – the centre for gaming, manga and anime culture (comics and animated stories) and also a place full of electronics stores.
Having checked out the gaming arcades and the excitement of the Japanese getting the latest rice steamer, make your way to a more down-to-earth district, Asakusa, with its beautiful Senso-ji Temple.
Asakusa has an atmosphere of the old Tokyo and is in quite a contrast to Akihabara. Well, by this time, the contrasts will feel like a completely natural part of our 10 day Japan itinerary.
To finish your splendid journey through Japan, have a look at Tokyo from a bird's eye's perspective. Tokyo Skytree is the tallest building in Japan and it's more than worth taking the elevators that whizz you up within seconds to the observation gallery located at 450 meters above the ground.
Whichever direction you look, there's Tokyo around you. With one exception – on clear days, the majestic Fuji is visible on the western horizon.
Altogether, it's a really impressive vista and we recommend enjoying it during sunset and twilight, as the city will be gradually turning on its millions and millions of lights.
We recommend occupying the place with the best view a good minute before the sun sets – the place gets full.
It's time for the last dinner in Japan. So how about the fugu? 😊
---
Tips for planning your Japan itinerary
Whether you decide to follow our Japan 10 day itinerary by the letter or plan your own trip, these tips will definitely be helpful!
If you're looking for some more information on Japan, check out our Japan for beginners guide which is full of additional information!
Arriving in Japan
For our 10 day Japan itinerary, it would be ideal to arrive in Osaka and depart from Tokyo, however flying to and from the same airport is usually cheaper, and it's completely fine to use the same airport for both arrival and departure – either Osaka or Tokyo.
Osaka and Tokyo are less than 3 hours apart by frequent Shinkansen services, so a transfer between the two cities is not a big deal – in fact, a journey by Shinkansen is an interesting and pleasant travel experience.
Both Osaka and Tokyo are among the busiest international airports in Japan with plenty of flights from Europe, the USA and Canada as well as Asia, obviously.
Tokyo has two airports – while most of the international flights arrive to Narita airport, some arrive to Haneda airport.
Hiroshima airport, while being the most convenient, as our itinerary starts in Hiroshima, has limited domestic flights and services to certain major Asian destinations. It might be an interesting option to consider if you're arriving from one of these.
Visitors from most European countries, the USA, Canada, Australia, and New Zealand, as well as some other countries, do not need visas. For an up-to-date list, consult the website of the Ministry of Foreign Affairs of Japan.
Japan Rail Pass
Japan Rail Pass allows the cheapest travel around Japan for our 10 day Japan itinerary.
The Japan Rail Pass is a cost-effective solution for long-distance rail travel in Japan, meant only for foreign tourists to the country. It allows unlimited travel on all JR-operated trains, except for the fastest category of Shinkansen (called Nozomi and Mizuho).
The Japan Rail Pass is definitely a great value for this 10-day itinerary, as you'll be using several long-distance trips on Shinkansen during the trip.
The pass comes in two types: ordinary and green car (equivalent to second class and first class) and 7, 14 or 21-day validity. If you stick to our 10 day Japan itinerary, we recommend getting a 7-day pass and using it on days 1 through 7 and then getting an extra ticket on day 8 to travel from Fuji Hakone area to Tokyo and possibly on the last day to Tokyo airport, as it will be the most cost-efficient solution. However, if you plan on staying longer at certain places, perhaps making some side trips from Kyoto or Tokyo, then a 14-day pass might be a cheaper alternative.
Getting around in Japan during this 10 day Japan itinerary
Here you'll find all the practical information regarding getting around in Japan during our itinerary. From which train to take to how to get to various landmarks in Kyoto and Tokyo, all the information is thoroughly explained day by day.
Not only is getting around in Japan surprisingly easy, it actually is great fun and a unique experience in itself. For our 10 day Japan itinerary, we recommend using the fabulous Japanese rail services. In Tokyo and Kyoto, public transit will be used as well.
Let's now look more closely at the required travel for the particular days of our 10 day Japan itinerary:
Day 1 – positioning to Hiroshima.
If you've arrived at Osaka Kansai airport, it's altogether about a 2-and-half-hour journey by train – first taking the limited express Haruka from the airport to Shin-Osaka, changing there for Shinkansen towards Hiroshima.
If you've arrived at Tokyo Narita airport, it would altogether be almost a six-hour journey by train to Hiroshima – honestly, quite a tiring journey after a long flight. If this is your case, you might consider spending a night in Tokyo after your flight (especially a long-haul one) before positioning to Hiroshima. There are several trains operating between Narita airport to several stations in Tokyo, operated by both JR and private companies.
If you're going straight from Tokyo airport to Hiroshima, we recommend taking a JR-operated Narita express to Tokyo (Tokyo's main station) and changing there for a Shinkansen to Osaka or Kobe (stations called Shin-Osaka and Shin-Kobe) and changing there again for a Shinkansen to Hiroshima. Hyperdia.com shows all the options including transfers for you.
Day 2 – visiting Hiroshima and Miyajima.
To get to Miyajima from Hiroshima, take a train from Hiroshima station to Miyajimaguchi. It's about a half-an-hour ride on a local train (JR Sanyo Line), departing from track 1 at Hiroshima station. The local trains are rather low-tech low-key (especially in comparison with Shinkansen), but still, they're a safe, efficient and reliable means of transportation. At Miyajimaguchi change for a short 10-minute ferry ride to Miyajima island. There are JR ferries as well as ferries operated by private companies. You can use your JR Pass for the JR ferry.
Miyajima island is a perfect place for enjoying on foot.
Having appreciated the beautiful island of Miyajima, you can get back the same way to Hiroshima. Alternatively, you can use tram number 2 running from the ferry stations to the centre of Hiroshima. It's a bit slower than taking the train and as the Japan Rail Pass is not valid for the tram, you'd need the ticket (to be bought from the machine at the station). The advantage of taking the tram is that it brings you right to the centre where the Atomic Dome and Peace Memorial Park are.
While today's Hiroshima is a modern city with a population of more than a million, its centre is rather compact and pedestrian-friendly. It is about half an hour's walk between the railway station and the Atomic Dome (and Peace Memorial park and museum – they are all pretty much at the same place). Should you still wish to use the trams, you can check the website of Hiroshima Electric Railway for routes, schedules, and fares.
Day 3 – taking the Shinkansen from Hiroshima to Kyoto and exploring Kyoto.
The journey from Hiroshima to Kyoto lasts about two hours. It might be necessary to change trains at Shin-Kobe. Once again, hyperdia.com is your friend for the exact schedule and transfer information.
During your stay in Kyoto, we recommend using Kyoto city buses and possibly the metro (subway) to get to the places suggested in our itinerary.
We also recommend using local JR trains to get to Arashiyama and Fushimi-Inari (convenient, as you have the JR pass).
You may either get individual tickets for each bus trip (flat fare of 230 YEN, paid to the driver with exact change), or a one-day (or two-day) pass for either bus-only or bus and metro.
While our itinerary doesn't require that many bus or metro trips to make the one-day pass worth price-wise, it is still a convenient option as you don't have to buy the ticket all the time with exact change and the difference is after all rather negligible (one-day pass for the bus is cheaper than individual tickets if making at least 3 journeys by bus; one-day pass for bus and metro is cheaper than individual tickets if making at least four trips a day).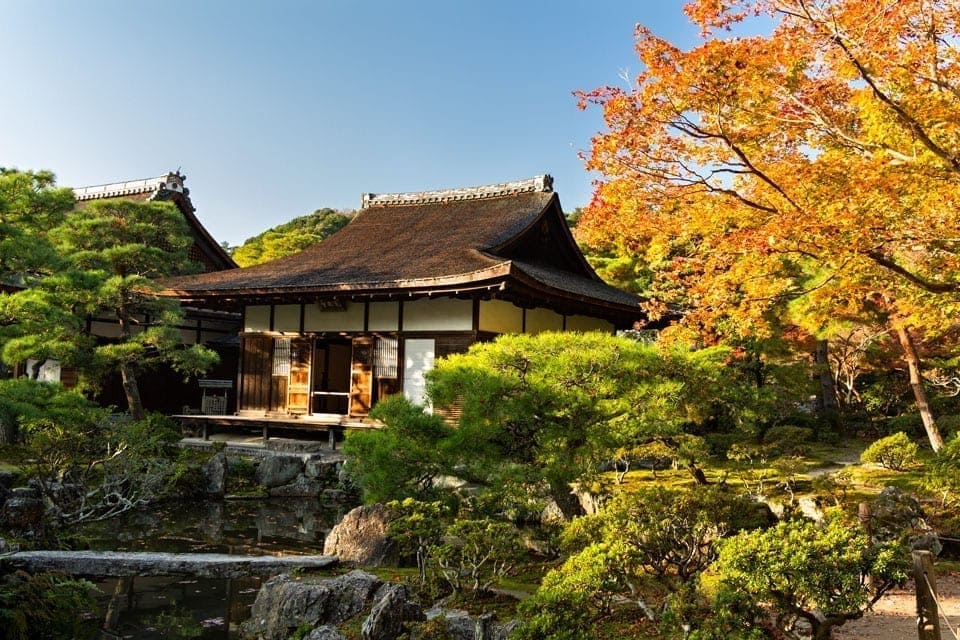 For all the Kyoto city buses except bus 100, you get on the rear door and get off the front door, paying the driver when leaving. For some reason, it is the opposite for bus 100, which is probably the most popular tourist route as it runs from Kyoto station to southern and northern Higashiyama district. Again, an exact change is needed and there is a flat fare of 230 YEN (for stops within city limits).
For the metro, you can buy tickets from the machines located at each station. The fare depends on the distance travelled. The website of Kyoto city buses and subway has valuable information including route maps, types of tickets, how to use the day passes (the timetables are only available in Japanese, however, the buses run often enough so one can do without a timetable).
Check out our 2 day Kyoto itinerary for the full information on getting around Kyoto!
Day 6 – saying bye to Kyoto and boarding a Shinkansen to Odawara.
This is a day of positioning to the splendid Fuji Hakone national park. Take the Tokaido Shinkansen line from Kyoto to Odawara (the train continues to Tokyo). This is the busiest Shinkansen line in Japan with departures up to every three minutes during the peak times! The journey to Odawara lasts about 2 hours.
When to leave Kyoto? That's up to you. Perhaps you still have something left in Kyoto that you don't want to miss – use the morning in Kyoto to do this!
Once in Odawara station, do pop into Odakyu Sightseeing Services Center to get one of these passes that will be useful while visiting this area: a 3-day Hakone Freepass or a 3-day Fuji-Hakone Pass.
Which one to get? That depends on day 8 of our itinerary when you'll be travelling to Tokyo. If you wish to travel the faster way via Odawara, get the Hakone Freepass. If you wish to travel the more interesting way via Kawaguchiko (some amazing views of Fuji are the greatest temptation here if the weather cooperates), get the slightly more expensive Fuji-Hakone Pass.
Note that travelling via Kawagukicho will require two bus trips (or even three, depending on where your accommodation is). That wouldn't be the most comfortable if you have bulky luggage, but still doable. The view of Mt. Fuji from Chureito Pagoda in Shimo-Yoshida is worth it, though (one just has to hope for clear skies 😊).
Alternatively, if you don't want to skip the fabulous postcard view of Fuji from Chureito Pagoda, but still wish to travel to Tokyo in a more comfortable way, get the Fuji Hakone Pass and swap the days 7 and 8 programs – visit Chureito Pagoda on day 7 and explore Hakone area on day 8, before travelling to Tokyo in the evening.
Whichever pass you get, it will be the only one you'll need for unlimited travel on local means of transportation (that include trains, buses, sightseeing boat, cable car, and ropeway) in this beautiful area.
Once you've got your pass (no reservations necessary), hop on the local scenic Hakone Tozan train for a short trip to Hakone-Yumoto. From Hakone-Yumoto, proceed to your accommodation (either by Hakone Tozan train towards Gora or Hakone Tozan bus towards Motohakone). The whole trip from Kyoto to your chosen place in Hakone area will take up to 4 hours.
Note: Hakone Tozan train service between Hakone-Yumoto and Gora is currently out of service and is substituted by a bus service. This is estimated to last until late autumn 2020. Check this link for up-to-date conditions of local means of transportation in Hakone area.
We have a funny memory of travelling in this area. We visited in mid-November. Two days before arriving in Odawara, we were just in T-shirts in Kyoto, enjoying a splendid sunny 20-degree Celsius day. When we arrived in Odawara (located almost at sea level), there was a mix of rain and snow. The first snow this area had in the last 50 years – as we were told. And, boy, it caught even the Japanese unprepared! 😊 The train to Gora was not running as there was an enormous amount of snow on the track. No buses were running. The few taxis that had winter tires had like 4-hour waiting lines for them… fun! We almost thought we wouldn't make it to our ryokan. We eventually did, with about a 4-hour delay, arriving just in time for our kaiseki dinner. It was a bit of a stressful journey, but the evening bath in the outside hot springs with large snowflakes falling into the bath felt damn good and almost fairytale-like!
Day 7 – exploring the beautiful Hakone area.
If you're staying in Gora, we suggest making a trip in the counter-clockwise direction, starting with the cable car from Gora to Sounzan. Change there for Hakone Ropeway to Owakudani (don't forget to try the black eggs) and further on to Togendai.
Togendai is situated at the shore of beautiful Lake Ashi. The next part of today's adventure takes you on a historic boat ride on Lake Ashi from Togendai to Motohakone. On clear days, admire the majestic Mt. Fuji from the boat.
Explore the picturesque Motohakone on foot, take a scenic walk on the shore towards Hakone Shrine and then continue by Hakone Tozan bus either straight back to Gora (line Y) or to Hakone-Yumoto (line K), from where the Hakone Tozan mountain train takes you back to Gora. For a map of the bus lines check this link.
If you're staying somewhere else in this area, such as Motohakone or Hakone-Yumoto, essentially you can take the same itinerary, either in a clockwise or counter-clockwise direction.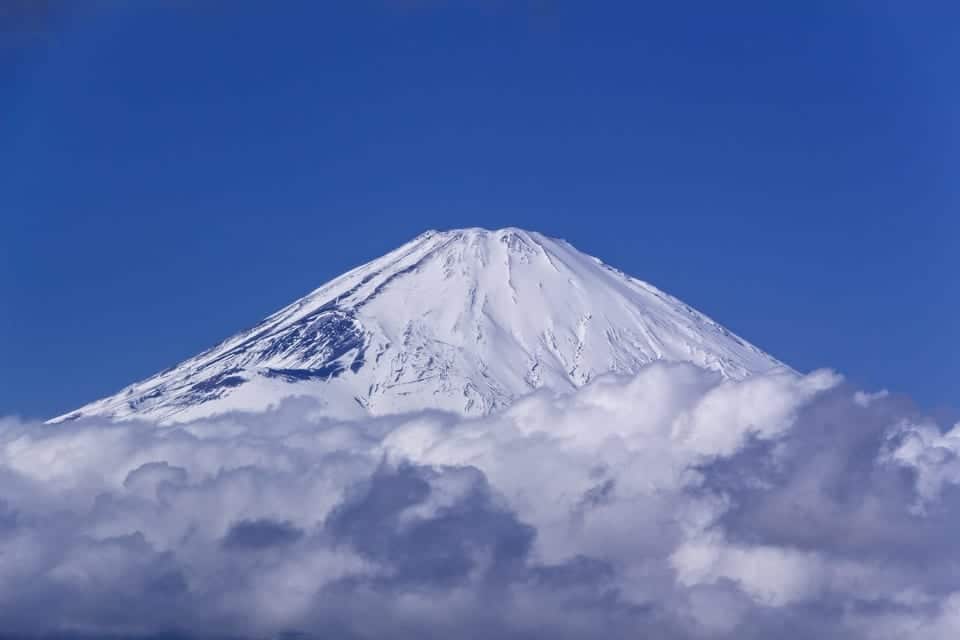 If this day is a gorgeous sunny one with clear skies, you might consider visiting the Chureito Pagoda with its spectacular views of Mount Fuji on this day, leaving the original program for the next day. Chureito Pagoda is situated in Arakurayama Sengen Park near lake Kawaguchi, on the northern side of majestic Mt. Fuji. The journey there is all covered by Fuji-Hakone Pass, however, it requires several transfers.
First, take a bus from Gora to Gotemba station (line G, however, runs only a couple of times a day) or to Gotemba Premium Outlets (line M offers more frequent services, however, you need to take a free shuttle from Gotemba Premium Outlets to Gotemba station).
Once in Gotemba station, change for a bus to Kawaguchiko station (Fujikyu bus line A and C, running approximately every half an hour, the journey lasts 1 hour 10 minutes).
From Kawaguchiko station, hop on the local train for a 13-minute journey to Shimoyoshida.
And finally, it's about a 20-minute walk from the station to the splendid viewpoint with the pagoda.
Altogether, allow about 2.5 – 3 hours to get there from the Hakone area. To make this into a full day trip, you may consider visiting some other attractions in Kawaguchiko, such as a boat ride on Lake Kawaguchi or a trip by the Mt. Fuji Panoramic Ropeway (please note these are not covered by Fuji-Hakone Freepass).
Day 8 – leaving the marvellous Hakone area and travelling to Tokyo.
When to say bye to the beautiful Hakone area? It's up to you – you may leave in the morning and go straight to Tokyo by train from Hakone-Yumoto (about a 1.5-hour trip by Odakyu-operated Hakone Express to Shinjuku Station in Tokyo).
You may take the same train but later in the afternoon or even in the evening, spending the whole day in the Hakone area (it's perfectly ok to do the Hakone circle trip from the previous day on this day, before taking an evening train to Tokyo). Or you may consider taking a bus to Kawaguchiko, visiting the splendid Chureito Pagoda on this day, before continuing by train from Kawaguchiko to Tokyo.
If you got a 7-day JR Railpass, it will not be valid on this day anymore. That's perfectly fine, as the trains from Hakone-Yumoto to Shinjuku, as well as from Kawagukicho to Shinjuku are not JR trains anyway. Get the train tickets in Hakone-Yumoto Station at Odakyu Sightseeing Services Center or in Kawaguchiko station from the general ticket office.
However, if you have a 14-day JR Railpass, you might still benefit from it – take the Hakone-Tozan train (still covered by Hakone Freepass today) to Odawara and change there for the Shinkansen service to Tokyo.
Days 9 and 10 – exploring Tokyo, the final destination of our 10 day Japan itinerary.
Tokyo is huge. We recommend using Tokyo's efficient subway services for travelling between various neighbourhoods and then exploring them on foot.
Tokyo has altogether 13 lines of subway (metro), operated by two different companies (9 lines of Tokyo Metro and 4 lines of Toei Subway), as well as a circular JR Yamanote line and some private lines. The system is efficient, safe and easy-to-navigate for foreigners, with English signs helping you find your way everywhere.
For a map of the whole train and subway system, check this link.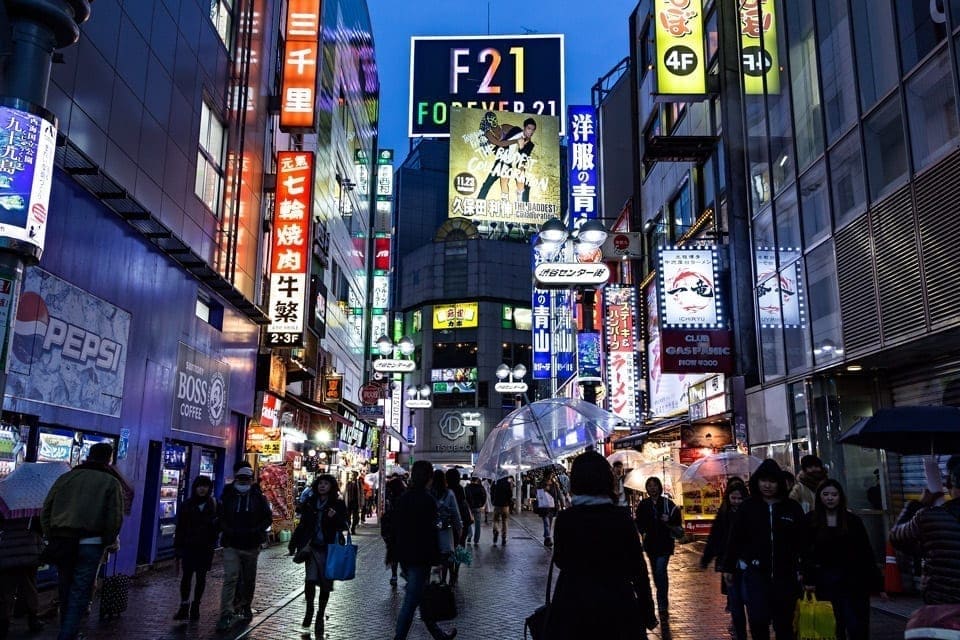 Accommodation in Japan
Japan offers plenty of accommodation options to suit every taste and every budget, from unique capsule hotels to luxurious ryokans. Rooms furnished in both western-style and Japanese style are available.
Please note that many hotels offer a choice of smoking and non-smoking rooms, so make sure to book the right option for you. Also, it is advisable to book early enough. By early enough we mean several months in advance for the popular locations such as Miyajima and Hakone, especially if traveling during peak season – typically spring and autumn.
During our 10 day Japan itinerary, you'll be overnighting in 4 different places: Hiroshima (or Miyajima island, if you prefer), Kyoto, Hakone area (Gora village is recommended) and Tokyo.
Hotels will probably be the obvious choice for Tokyo, Hiroshima and Kyoto. However, we definitely do recommend staying at least once in a ryokan, preferably in the Hakone area or Miyajima. Why? Read our post about ryokan and onsen!
Let's have a look at the accommodation required for our 10 day Japan itinerary.
Hiroshima – we recommend a hotel in the centre – somewhere between the railway station and Peace Memorial Park, as this is the most convenient location – easy to walk to the main places of interest. Here are our recommendations.
Miyajima – this is an alternative to Hiroshima – pricier but allows you to enjoy the beauty and tranquillity of the island after the day's crowds are gone. Not too many accommodation options, so an early booking is advisable. Here are some hotels – and ryokans! – in Miyajima.
Kyoto – the area around Kyoto station, downtown Kyoto (the area north of the railway station alongside the metro line towards Gojo and Shijo stations) as well as southern Higashiyama are all perfect places for accommodation, with plenty of places to eat and convenient to get to various places of interest. Kyoto offers a range of hotels, from luxury to standard business hotels, as well as ryokans. I've listed the best places where to stay in Kyoto right here.
Hakone – this mountainous area has not only an abundance of natural beauty but is very rich in hot springs as well. This makes Hakone a perfect place to enjoy a relaxing stay in onsen ryokan – traditional inn with hot baths. There are several small resort towns, we would recommend Gora, Motohakone or Hakone-Yumoto. There are many great ryokans in the Hakone area. Usually, they are expensive, but the experience will be unforgettable.
Tokyo – the best places where to stay are Shinjuku, Shibuya, the area around the Tokyo Station (including Ginza) and Roppongi. All of these offer plenty of options for dining, shopping and entertainment and all except Roppongi are also important transport hubs. The choice of hotels is huge, from budget to middle class to luxury. Real estate is damn expensive in Tokyo, and this means many hotel rooms, especially in the budget and middle-class hotels, are rather small. Read more on where to stay in Tokyo.
Where to eat and what to eat in Japan?
Food alone is an excellent reason to visit Japan, even if you're not a foodie. And if you are a foodie, then even more so.
Did you know Tokyo has the biggest number of Michelin-starred restaurants from all the cities in the world? And did you know in some of these Michelin-starred restaurants, you can enjoy your meal for around 11 EUR/USD?
Sounds incredible? That's how Japan is. 😊
Japanese cuisine is diverse and refined. All those mouth-watering teppanyaki, sukiyaki, okonomiyaki and other yaki and all the delicious ramen and udon and soba and other noodle delicacies and all the amazing sushi and sashimi – there's simply something for everybody's taste.
The quality of ingredients is very high and the Japanese attention to detail and good taste are visible on the plate as well.
Most of the restaurants specialize in one type of meal, such as sushi, ramen or okonomiyaki. Not many restaurants offer English menus, however, most of the restaurants have pictures of all the meals or even plastic models, making choosing and ordering your food relatively easy.
The price range is huge – you can have a tasty bento lunch box or ramen for 8EUR/USD or an excellent Kobe beef steak for more than a hundred dollars. Many of the top-end (and expensive) restaurants offer excellent value lunches.
Here's our selection of recommended restaurants for our 10 day Japan itinerary:
Hiroshima – okonomiyaki are extremely popular and taste damn good here. Try them in Nagataya next to the Atomic Dome or Hassei on Peace Blvd.
Miyajima – oysters and conger eel rock here. Enjoy them in Yakigaki No Hayashi on Miyajima's main shopping street.
Kyoto – an excellent place to try just about anything from Japanese cuisine. Kaiseki – Japanese haute cuisine – is expensive but amazing in Kyoto. Tofu – if it's your thing – is also particularly popular in Kyoto.
Check the restaurants worth trying out, sorted according to their speciality, in our Kyoto 2 day itinerary!
Hakone – enjoy your kaiseki experience in your ryokan. For lunch, we recommend Gora Brewery and Grill, if you're in Gora for lunchtime. If you're doing the circuit around the area, Hakone Bakery & Table in Motohakone is a nice place for a quick lunch, offering various pastries and sandwiches as well as superb views of Lake Ashi.
Tokyo – with sushi and ramen being particularly popular, Tokyo is a great place to try just about anything from Japanese cuisine (and non-Japanese as well, if you wish so). Perhaps you'll be surprised to hear Tokyo has a couple of Michelin-starred restaurants where a delicious meal sets you off a mere ten bucks! No kidding!
Check out the restaurant selection, sorted according to the type of food they serve, in our full Tokyo 2 day itinerary!
When is the best time to visit Japan?
Spring (March to May) and autumn (October and November) are the best times to enjoy our 10 day Japan itinerary. The weather is pleasant with mostly sunny skies, the temperatures are ideal for sightseeing – neither too hot nor too cold, and those trees – mamma mia, they look amazing.
Summer (June to early September) tends to be rather hot and humid and possibly rainy.
Winter is a rather calm time with colder temperatures (still above freezing, though) and fewer crowds – not a bad time to visit if you don't mind the shorter daylight.
If viewing cherry blossoms and autumn foliage in Japan are on your bucket list, the best times are usually late March to early April and the second half of November, respectively.
The Japanese love to take walks and admire enthusiastically the beautiful colors of the trees in spring and autumn. You definitely won't be alone in the streets and parks of Kyoto if you visit during these times, but hey, those blooming sakura and red and crimson maple leaves do look wonderful.
What to pack to Japan?
Obviously, the things you need to take to Japan depend on where you'll be staying, when you'll be going, how much you care about insta pictures and many other things.
Some of the things you should take, which are included in your Japan all-seasons packing guide:
Clothes – comfortable clothes for sightseeing. Dressing in layers might be necessary, as during spring and autumn the days tend to be warm while evenings might be cool. It's a great idea to have some extra clothes packed – when we visited in November, Kyoto welcomed us with sunny 20 degrees (68 F) while Hakone had some fresh snow two days later! Don't forget comfortable shoes for walking in the cities.
Camera and other photography gear that you use.
Adaptors might be needed for sockets, depending on your home country.
Cash – Japan used to be pretty much a cash society, but is slowly changing, with an increasing number of hotels and restaurants accepting major credit cards. Cash is still needed, though, as some restaurants and hotels might not accept credit cards, and it will also be needed in public transport and when visiting temples and shrines.
Where to get Japanese yen? You can exchange at currency exchange either at home or after arrival in Japan (which one yields a better rate – that depends on your home currency and place of residency). You can also get cash at ATM at post offices and 7-Eleven convenience stores (these accept foreign credit cards). Many banks, such as Revolut, even let you withdraw money abroad without fees.
What is the budget for travelling to Japan?
Great news here! Japan is one of the cheapest countries to visit in the developed part of the world.
Surprised to hear that? Well, it's true!
Lunch in a Michelin-starred restaurant for 11EUR/USD? It's possible in Japan! While a stay in a good ryokan won't exactly be a cheap thrill, there are generally plenty of options for every budget in accommodation and food.
Accommodation
A middle-class business-style hotel will work out to about 55 EUR/USD per person per night, breakfast included. Prices vary during the year, as well as during the week – the most expensive being weekends during popular times of year – such as cherry blossom season.
On the cheapest end, there are dorm rooms available at around 20 EUR/USD per person per night.
On the luxury end of the scale, a stay in a fabulous ryokan with heavenly meals (dinner and breakfast included) will set you off around 250 EUR/USD or even more per person per night.
If your budget allows, we definitely recommend staying a night or two in a great ryokan, as this is one of the best experiences Japan offers.
Food
Just like with accommodation, there are plenty of options available on both ends of the price scale, and everything in between those ends as well.
The great thing is, even with cheap "street food", the quality of the ingredients will be high.
Many high-end restaurants offer a great value lunch menu, much cheaper than dinner.
A bowl of ramen will come cheap at around 10 EUR/USD while a delicate Kobe beef steak might make your wallet 220 EUR/USD lighter. And obviously, there are heaps of options in between these prices (you might be happy to hear that plenty of them are much closer to the cheap end 😊).
Transport
While the JR Railpass is the most expensive item in the transport expenses, it still is the cheapest option for our 10 day Japan itinerary. We definitely recommend getting it, as it will save you money on your rail transport.
7-day pass costs around 220 EUR/USD. 3-day Fuji-Hakone pass will set you off around 70 EUR/USD.
The public transport in Hiroshima, Kyoto and Tokyo is cheap and efficient – you can expect to spend no more than 35 EUR/USD per person on these.
Should you wish to use taxis, a typical ride in Kyoto will be around 600 yen (4.50 EUR/USD) for the first 2 kilometres and then an additional 80 yen (0.60 USD/EUR) every 415 meters, while Tokyo taxis are more expensive.
We don't recommend taking a taxi from the airport (Tokyo Narita or Osaka Kansai) – this would be unnecessarily expensive as the trains are super-efficient and much cheaper.
Other costs
Temples typically have a small admission fee, around 3 – 5 EUR/USD. Cash is needed.
Health and safety precautions
No special health precautions are necessary. Japan is one of the safest countries in the whole world, with low crime rates. Having said this, using some common sense is always a great idea 😊
Note: At the time of publishing this article, there is a worldwide threat of a respiratory disease. Regarding any precautions and advice, we suggest following the recommendations of World Health Organization and your national government and health authorities.
A special hazard in Japan might come in the form of earthquakes and tsunamis (although it's rare that earthquakes come in a life-threatening scale). Nevertheless, the high-tech Japan is (usually) well prepared for these, and you can be, too – just download the NHK World TV app (Japanese news portal in English) where you'd receive notifications about any such hazards.
As always when travelling, we recommend taking out travel insurance.
How to get online in Japan?
Whether you need to check a map or search for a restaurant, staying connected is convenient during travelling. There are, generally speaking, three options of how to get all the zeros and ones to your smartphone or tablet: wifi, wifi router or a data SIM card.
Wifi – most business-style hotels offer free wifi. You may also benefit from hundreds of thousands of free wifi spots throughout the country. Japan connected-Free Wifi and Travel Japan Wi-fi are among the largest providers. Both require an initial registration for free.
Data sim card – you may get a data-only SIM card that is valid from 8 to 31 days from Japan experience, for example, and get it delivered to your home before your trip. Please note this option requires an unlocked device. It's only for data, not normal calls or SMS, but you can make calls on apps such as WhatsApp.
Pocket wifi (mobile router) – a convenient option that allows you to connect more devices. The mobile router is rented from a provider for a certain amount of days and then returned, a pick-up and return at the airport or the hotel is possible. Good options include booking from Japan Experience or Ninja WiFi.
In conclusion…
Have you already visited Japan? What was your favourite experience there? If you're just planning your trip, what are you looking forward to the most? 😊
---
Like it? Pin it!