Japan in November: photography to inspire your wanderlust
Visiting Japan is like hopping on a rollercoaster of amazing and unique experiences. It doesn't matter if you visit Japan in November during the height of Autumn foliage, or in April when the sakura blooms.
From admiring the beauty and tranquillity of Buddhist temples and gardens to enjoying exquisite Japanese cuisine, there's a lot to experience whenever you visit the land of the rising sun.
And to capture – with your Japanese camera, of course 🙂
Indeed, Japan is a perfect place for photography.
Here comes a selection of our own photos from when we visited Japan in November. The pictures are arranged in the same chronological order as our 10 day Japan itinerary. Perhaps they'll ignite your wanderlust and make you want to plan a trip to the Land of Rising Sun.
This post may contain affiliate links, which means that if you purchase anything via them, we might earn a small commission – at no extra cost to you. Check our affiliate disclaimer for more information.
First places to visit in Japan in November – Hiroshima and Miyajima
Visiting the tiny island of Miyajima situated just a stone's throw away from Hiroshima is a perfect way to start a trip around Japan in November.
Miyajima is famous for its Itsukushima shrine and the shrine's floating torii gate.
Miyajima is a romantic and dreamy place.
Even if it has a lot of daytime visitors, you're still guaranteed to find beautiful and calm places to admire the amazing Japanese nature.
The spectacular autumn foliage that covers Japan in November makes for a great object of photography.
The vermilion torii gate of Itsukushima shrine is the number one object of photography on Miyajima island. And in fact, it is considered one of the most iconic views in all of Japan. The feeling that the gate seems to be floating on the sea is correct. The feeling that it grows out of Michal's head is not 🙂
The best thing to do in Miyajima is to wander leisurely while keeping your eyes and mind open. That way you'll find many hidden gems this beautiful island offers.
The shrine itself gave an incredible sense of calm – even though there were tons of people roaming around. But the views of the foliage that Japan in November offers were just like a cherry on top.
To fully experience the best of Miyajima, we suggest spending a night in a ryokan.
If it doesn't work with your itinerary, though, you can do it like we did and enjoy the ryokan in Gora.
Japan is always full of exciting and surprising objects for photography.
Did you know Miyajima has free-roaming deer in the streets? You don't have to specifically visit Nara for that!
These adorable animals love to pose for a picture with you. They also love eating paper, so keep your travel documents safe 🙂
Hiroshima is a bit of a contrast to the romantic Miyajima. The city became the target of the world's first A-bomb in 1945. The Peace Memorial Park in the city centre is a solemn place commemorating its victims.
Definitely visit the Hiroshima Peace Memorial Museum here, although maybe better not with very young children, as there are actual parts of people in the exhibition.
Next stop – Kyoto, one of the most iconic places for Japan photography
Kyoto is the most beautiful Japanese city, and it's not a subjective opinion.
With more than two thousand temples and shrines, as well as parks, gardens, museums, restaurants, and bars, there is simply something for everyone.
The Kinkaku-ji temple, one of Kyoto's top attractions, is so shiny you don't wanna forget your sunglasses, seriously 🙂
If you go a bit off the most popular sites, you can find some quiet and cute temples and buildings. Like this one, for example, just next to the Ryoan-ji with its mysterious rock garden with 15 scattered rocks and no plants.
Its front facade is supported by a 13-meter-tall wooden stage.
During the Edo period, there was a funny belief that leaping off this stage would make your wish come true. The Edo period is over, so we definitely do not recommend trying it nowadays 🙂
While the stupendous Kiyomizu-dera temple in Kyoto's Southern Higashiyama district might be its number one attraction, there's much, much more.
One can easily spend half a day exploring this superb neighbourhood. Crooked streets, cosy little teashops, and various temples, small and grand, are all waiting to be discovered.
Discovering the beauty of Kyoto's temples is among the top experiences this magnificent city offers.
If you're visiting Japan in November, the beauty is enhanced by the autumn foliage.
If discovering the beauty of Kyoto's temples is one of the top experiences, then discovering the little hidden gems like this one is the creme de la creme.
The best thing about them – you're likely to have them all for yourself, without the usual crowds found at the most popular spots.
When is the best time to visit Kyoto?
The easy answer is – spring and autumn.
We visited Japan in the second half of November when all the trees were dressed in the beautiful colours of crimson, red, and orange.
Watching the autumn foliage is a very popular activity not just in Kyoto, but in all of Japan.
Not surprisingly, the colourful trees are also a perfect object for some typical photography from Japan.
Visiting in spring, though, lets you enjoy Japan during one of the most beautiful – and thus most popular – seasons, which is when the cherry blossoms are in full bloom.
Kyoto is stunning. And yes, Kyoto is also popular among visitors and gets crowded.
Yet, if you venture a bit off the beaten path, various little hidden gems are waiting for discovery.
We literally got stuck in a pedestrian traffic jam on a street in Southern Higashiyama.
We also found this little temple in the very same southern Higashiyama and had it all to ourselves.
While walking through Southern Higashiyama…
This is Kyoto's top district for visitors, with many major attractions as well as various hidden gems.
The Philosopher's Path, starting near Ginkaku-ji temple, is a popular walking trail in this district and one well worth taking.
Strolling around the Northern and Southern Higashiyama districts is one of the most rewarding experiences Kyoto offers.
Both districts are very pedestrian-friendly and abound with magnificent temples, cosy tearooms, superb restaurants, and a very pleasant atmosphere of "hey, this is how I imagined Japan".
And if you get tired of walking, why not try a rickshaw?
The numerous torii gates of this shrine located in southern Kyoto form sort of mystical arcades. Walking through them is almost a fairy-tale-like experience.
The Fushimi Inari shrine is dedicated to the Shinto goddess of rice, Inari.
Each of the gates was donated as an offering by an individual or business, with the larger the gate, the larger the donation.
There are also many statues of foxes next to the gates, as foxes are believed to be Inari's messengers.
Walking through these gates is an absolutely unique and unforgettable experience.
Whether you decide to go for a selfie as this young couple did or capture the torii gates on their own, you can't go wrong – Fushimi Inari is one of Japan's iconic sights and a fabulous place for photography.
Not your typical snapshot from Kyoto, you'd think?
Well, Japan is a land of contrasts and surprises.
This cheeky macaque was posing nicely for a picture with the whole Kyoto in the background. We had this cool view and met the friendly monkeys in Arashiyama Monkey Park.
Arashiyama is among the top districts to visit in Kyoto, with a beautiful bamboo forest being another of the highlights.
Moving on to Ryokan, onsen, Mt. Fuji and black eggs cooked in sulfurous volcanic water
An active volcano, one of Japan's three sacred mountains, and an iconic sight of the Land of the Rising Sun – that's Mt. Fuji.
You may catch a glimpse of it from the Shinkansen, you may see it on clear days from Tokyo and you may visit the beautiful Fuji Hakone National Park.
Unfortunately, the only times when Fuji decided to show his magnificent beauty were when we were on trains or buses. That's Japan in November for you – there might be rain. And snow!
All of these experiences are incorporated into our 10 day Japan itinerary.
Fuji Hakone national park is our favourite part of our 10 day Japan itinerary.
We enjoyed the beautiful nature, relaxed in the onsen while snowflakes were falling into the hot tub, and feasted on an amazing kaiseki dinner.
What's the weather in Japan in November like, you ask?
Well, for us it proved to be unpredictable! According to the people we met in a train station in Odawara, it snowed there for the first time in 50 years (at least in mid-November). 2 days before this, we were wearing t-shirts in Kyoto!
So, it pretty much was an adventure – the public transport didn't work, as it wasn't ready for snow, the line for the taxis was at least 4 hours long, and it was hard to communicate because English in Japan is very limited.
In the end, though, we made it to the ryokan. And enjoyed the warm foot bath while sipping wine very, very much, haha.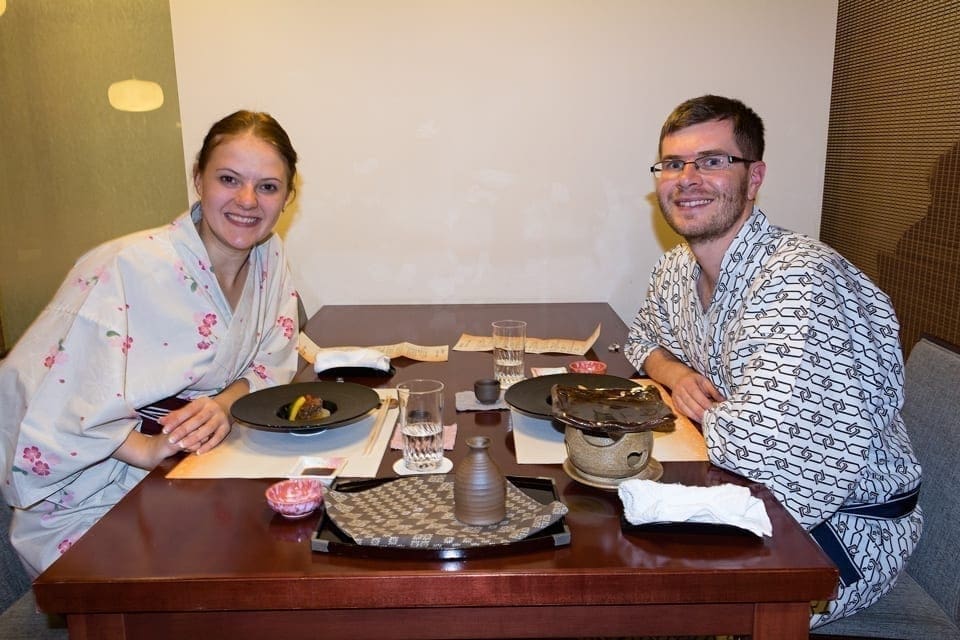 Staying in a ryokan is an unforgettable experience and definitely one of our favourite ones from the whole Japan trip.
Savouring gourmet meals of Japanese cuisine, relaxing in the hot tubs, and generally being pampered – that was our ryokan experience.
Sounds great? It surely was!
We have a whole post about the rules of visiting ryokan and onsen, you may check it out.
Spoiler alert: it will make you want to stay in a ryokan! 🙂
Kaiseki (the Japanese haute cuisine) meals are served in a ryokan – and one of the Japanese foods you definitely need to try.
The multi-course dinner and breakfast that we had were a feast for our eyes and ecstasy for our taste buds.
Ryokan rooms are rather minimalistic in their design, yet they feel very homey and cosy.
Tatami mats cover the floor (take off your shoes before walking on them!), futon beds make for a great night's sleep and a small table with legless chairs is perfect for enjoying a cup of Japanese green tea.
A Japanese toilet is a masterpiece of high-tech engineering.
It has almost as many push-buttons as a modern airliner's flight deck 🙂
A button for lifting the lid, a button for switching on the seat warmer, a button for regulating the intensity of the seat warmers, a button for switching on the spray nozzles, a button for regulating their intensity, a button for switching on the music…
Don't worry, it all comes with a manual 🙂 Unfortunately, the manual was only in Japanese…
The last stop on our trip to Japan in November – Tokyo!
Is this how you imagined Tokyo?
For us, it was.
The picture is from Shibuya, a modern district with plenty of shopping, dining, and entertainment options, and, yes, plenty of shiny neon lights as well.
Shibuya and the neighbouring Shinjuku are also perfect places for street photography from Japan.
And, if a skyscraper is not your thing, nearby is a vast Yoyogi park with the splendid Meiji Jingu shrine.
Up to three thousand people cross at a time, sharing the modest space of the zebra crossing, weaving, and avoiding others with a nonchalant dexterity.
That is the Shibuya crossing, the world's busiest pedestrian crossing.
Famous from Lost in Translation movie, you will definitely not get lost in Tokyo with our 10 day Japan itinerary 🙂
Don't forget to check out the Hachiko statue which is close to the train station in Shibuya!
Tsukiji Outer Market is where all the fish action takes place. (The main market has now moved to the Toyosu fish market).
Whether you've come here for the delicate sushi or raw tuna heads, you're at the right address.
Doesn't feel like 38-million metropolitan area?
And yet, this is Tokyo, and pretty close to the centre.
You can almost feel the cool breeze from the picture, can't you?
Odaiba, from where this picture was taken, is a high-tech entertainment hub on an artificial island in Tokyo Bay.
Odaiba seemed a lot more green than the other places we visited in Japan, but you can still see some autumn colours in the trees!
Whichever direction you look, there's Tokyo around you.
And what better place to enjoy this view than Tokyo Skytree?!
634 m (2080 ft) tall, Tokyo Skytree is the tallest structure in Japan. Its observation deck is situated at 450 m (1480 ft) and offers an absolutely breathtaking and spectacular view. On clear days, Mt. Fuji is visible in the distance.
A bit of advice – come here for the sunset, you won't regret it. And don't forget your camera 🙂
Japan photography tours
If you'd like to have some help with finding the most amazing places to take pictures in Japan, you can go on a guided tour!
There are many different kinds of tours available, both one day and multi day.
For example, here's a multi-day tour that covers Kyoto, Tokyo, and Hakone.
Or for more specific options, for example, here's a Tokyo night tour with a professional photographer or a Tokyo skyscraper photography workshop, or a walking tour as well. In Kyoto, for example, there's this portraiture photography workshop.
There are options, you just have to search for them.
Last thoughts about Japan in November
Whichever time you decide to go to Japan, it's bound to be amazing. That's just how Japan is!
With its thousand-year-old traditions, temples, and shrines, and its state of the art, as modern as it goes technology, there's something to find for everything.
I personally think that November in Japan is very beautiful. The autumn leaves really make everything look so dreamy!
Plus, there are tons of things to do in Japan in November – unlike in many other places, it's not a shoulder season, so everything is open!
What do you think? Would you visit Japan in November?
---
Like it? Pin it!