Kyoto 2 day itinerary – explore the highlights in just 2 days
Kyoto is undoubtedly the most beautiful Japanese city. Following our Kyoto 2 day itinerary will give you a chance to enjoy the magnificent temples, enchanting gardens, the many Unesco World Heritage sites, and so much more!
With so many things to choose from (there are 1600 temples and shrines in Kyoto!) and just 2 days to enjoy it all, it's not easy to decide on what to do and what to leave for the next time (believe me, you'll want to come back).
That's why we have done the hard work for you and put together a sort of "Kyoto highlights" itinerary: both efficient and non-stressful!
Before getting to the main itinerary, let's get some important details and travel tips for your trip to Kyoto out of the way. Alternatively, use the table of contents to jump to your preferred section.
This post contains affiliate links, which means that if you purchase anything via them, we might earn a small commission – at no extra cost to you. Check our affiliate disclaimer for more information.
Are 2 days in Kyoto enough?
Honestly, there is so much to do and so much to see in Kyoto that the more time you can spend there, the better. Kyoto is a rather big city, so just the transfer from one place to the other can take quite some time.
2 days in Kyoto is the minimum time to see the highlights, 2.5 days will allow you to spend the time at a bit more leisurely pace, and anything above that will give you a chance to add extra things to your Kyoto itinerary.
When is the best time to visit Kyoto?
Like for the rest of Japan, the best time to visit depends on what you'd like to experience.
If you'd like to view cherry blossoms, then the best time to visit would be late March or early April, as that's usually when the cherry blossom season is.
For the autumn foliage, it's better to go in the second half of November.
The exact times for cherry blossoms and autumn foliage, of course, depend on the weather.
You definitely won't be alone in the streets and parks of Kyoto if you visit during these times, but hey, those blooming sakura and red and crimson maple leaves do look wonderful.
In winter and summer, Kyoto is going to be less full of tourists, but it will be rather cold in winter and sweltering hot, humid, and possibly rainy in summer. If the weather doesn't bother you, it might be rather nice to visit in these seasons!
Where to stay in Kyoto?
Since 2 days in Kyoto does not leave too much time to waste, it's better to stay somewhere central. Some of the most popular places are Gion and Kyoto station areas. There are many great options for every taste and budget – from capsule hotels to Ryokans.
Stay in Gion for some incredible temples, historic atmosphere, good food, and nightlife, but keep in mind that it's a very popular place for tourists.
Kyoto station area will offer you easy access to transportation and plenty of good food, but not so much to see (although this is Kyoto we're talking about, so sightseeing is not far away).
We personally stayed in the Smile Hotel Kyoto Shijo and can recommend it. Although it's not in either Gion or the station area, it's still conveniently located, there's plenty of food around, and public transport is nearby (Kyoto train station is just a couple of subway stops away).
What to eat in Kyoto?
Kyoto is an excellent place to try just about anything from Japanese cuisine.
Kaiseki – Japanese haute cuisine – is expensive but amazing in Kyoto.
Tofu – if it's your thing – is also particularly popular in Kyoto.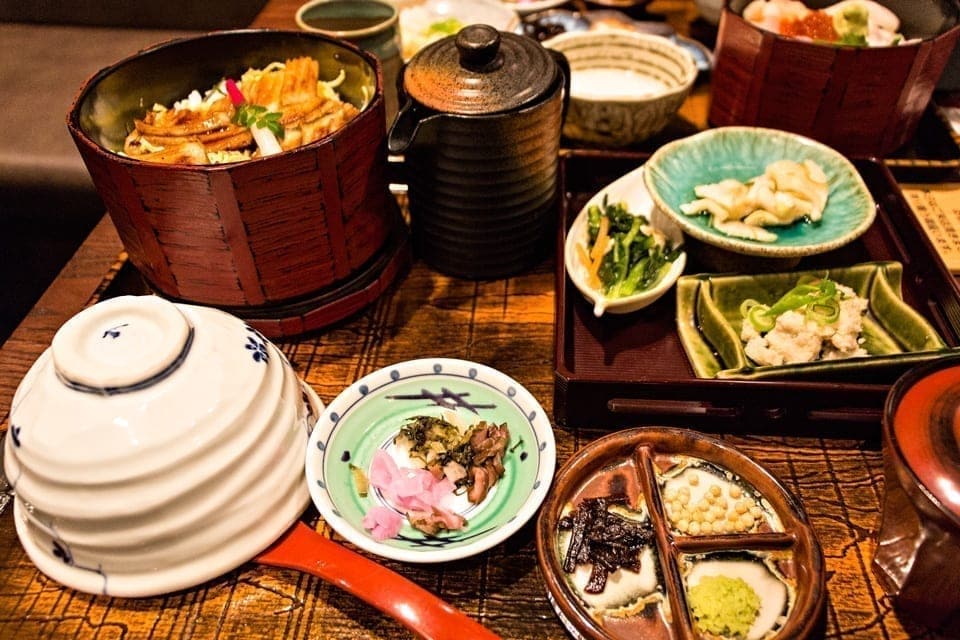 Here are some restaurants worth trying out, sorted according to their specialty:
Make sure to not break any Japanese dining rules when going there!
What to pack to Kyoto?
We visited Kyoto in November, and it was around 20 degrees Celsius, so quite pleasant for walking. But, obviously, the clothes that you need will depend on the season, the weather, and yourself (for example, when it's 20 degrees outside Michal is ok in a t-shirt and I might need a jacket…).
We've covered most of the things you need to have with you on the packing list for Japan.
Some important things to take with you are
comfortable shoes, as it's going to be a lot of walking
a bag for water, snacks, extra clothes, wallet, ID, camera… you get the idea.
camera – you will definitely want to take pictures!
If you're travelling in spring or autumn, we definitely suggest packing layers of clothing, as the mornings and evenings might be colder, and during the day it can get quite warm. Plus, the Torii gates are winding their way uphill 😉
What are the opening hours of the temples and shrines?
There are around 2000 temples and shrines in Kyoto, which range from huge and famous UNESCO World Heritage-listed temples to small and intimate shrines.
The temples open mostly at around 8 or 9 am, with some opening even at 6am. The closing time ranges from 4pm to 6pm, with most of the temples closing around 5pm.
So, on average, you could say that the temples are open from 9am to 5pm. Of course, it's better to check the specific opening hours of the temple that interests you the most!
There are some, mostly shrines, that are open 24 hours a day as well (for example, Fushimi Inari Taishi with the famous Torii gates)!
What are the entrance fees for Kyoto's shrines and temples?
Again, since it's so many temples and shrines, the prices differ. Most of them are below 1000 yen, and some are even free to enter!
Opening hours and entrance fees to the temples from this Kyoto 2 day itinerary
Kiyomizu-dera

open: daily 6am to 6pm (opening hours are extended to 6:30pm on certain days during summer, and until 9pm during night illumination)
entrance fee: 400 yen

Kinkaku-ji or Golden Pavilion

open: 9am to 5pm
entrance fee: 400 yen for adults, 300 yen for children

Ryonan-ji

open: 8am to 5pm from March to November and 8:30am to 4:30pm from December to February
entrance fee: 500 yen

Ginkaku-ji or Silver pavilion

open: 8:30am to 5pm from March to November and 9am to 4:30pm from December to February
entrance fee: 500 yen for adults, 300 yen for children

Fushimi Inari shrine

open: 24h
entrance fee: none

Tenryuji temple

open: 8:30am to 5pm (entry until 4:50pm)
entrance fee: 500 yen (plus 300yen if you'd like to enter the temple buildings)

Arashiyama bamboo forest

open: 24h
entrance fee: free

Iwatayama Monkey park

open: 9am to 5pm (until 4:30 from November to mid March); closed on days with heavy rain or snow
entrance fee: 550 yen
Kyoto 2 day itinerary
Now that we've covered the basics, let's get to the itinerary itself. Since it's just 2 days in Kyoto, you have to be quite efficient with exploring.
With more than 1600 Buddhist temples and over 400 shinto shrines, as well as gardens, parks, markets and tempting culinary delights, these two days in Kyoto will be as busy as they'll be splendid.
Just as a note – if you arrive in Kyoto by following our Japan 10 day itinerary, you'll have two and a half days in Kyoto. In this case, we recommend starting your visit with the beautiful Kiyomizu-dera temple with its eye-catching 13m tall wooden stage supporting the front façade of the temple.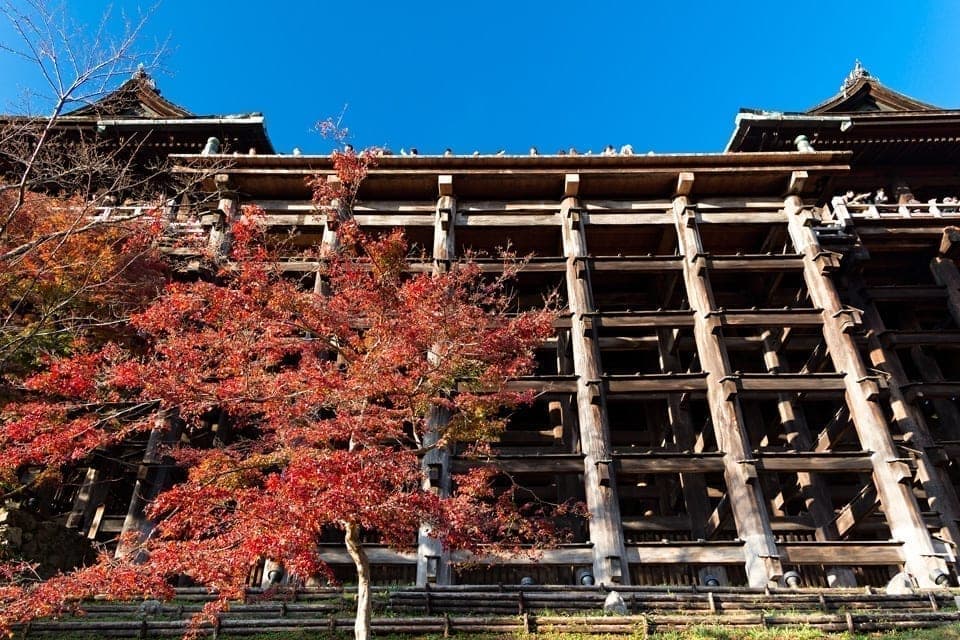 As a fun fact, during the Edo period, there was a belief that leaping off this stage meant that your wish would be granted. Well, we definitely do not recommend trying that nowadays – otherwise your wish to enjoy the rest of this 2-day Kyoto itinerary might remain, ironically, just a wish. 
Southern Higashiyama is best explored on feet – after being amazed by Kiyomizu-dera, just walk at a leisurely pace through the picturesque old streets where you'll feel like in ancient Japan and discover for yourself all the gems this place offers – numerous temples, cozy teashops and romantic streets.
To top it off, watch a beautiful sunset with a photogenic Yasaka Pagoda in the background.
If you have just 2 days in Kyoto, you can visit Kiyomizu-dera in the morning of the first day.
Day 1 of Kyoto 2 day itinerary
Let's start the day in a shiny way – visiting the ever-so-shining and iconic Kinkaku-ji or Golden Pavilion. Set in a magnificent Japanese garden, the golden structure of this Zen Buddhist temple reflects beautifully in the pond. It looks simply stunning and it really is so damn shiny you'll need sunglasses 😊.
Enough of shiny gold? Let's move on to Ryoan-ji with its mysterious rock garden with 15 scattered rocks and no plants. Let your imagination run wild to interpret the meaning of the garden.
If you didn't manage to visit the Kiyomizu-dera yet, then we'd recommend skipping Ryoan-ji and going to the temple instead.
For the afternoon, let's make our way to the northern Higashiyama district. Ginkaku-ji or Silver Pavilion with its stupendous garden is waiting to be explored.
From there, follow the Philosopher's Path winding its ways southwards, discovering the various gems for yourself such as Honen-in Temple and finishing in famous Gion at around sunset.
Will you be lucky to spot a geisha in this traditional district?
Day 2 of Kyoto 2 day itinerary
Let's start your second day in Kyoto at another unique place – Fushimi Inari Shrine.
This magnificent shrine with thousands of vermilion torii gates is one of the most iconic sights not only in Kyoto, but in the whole Japan. The numerous torii gates form sort of arcades and wind their ways uphill from the site of the shrine towards Mount Inari.
Did you know that each of these gates was donated as an offering by an individual or business, with the larger the gate, the larger the donation?
Walking through these mysterious arcades makes not only for a pleasant stroll but also for an absolutely unforgettable fairy-tale like experience. And as a reward for the uphill stroll, you'll be rewarded with a beautiful view of Kyoto from the top.
After lunch, head to Arashiyama district. Arashiyama was a former vacation spot for the emperors and it still retains a very pleasant atmosphere.
Visit the awe-inspiring Tenryuji temple, enjoy a relaxing walk through the mystical Arashiyama bamboo grove and get amused by the utterly photogenic and slightly cheeky macaques in the Iwatayama Monkey park, which also offers a superb vista of Kyoto.
To get to the Monkey park, you'll have to cross the Togetsu-Kyo bridge, which is a landmark of the Arashiyama district. It offers some amazing views of the surrounding mountains.
If you still have some time to spare, perhaps hop on the Sagano Scenic Railway for a 25-minute sightseeing trip along the picturesque Hozugawa river valley, taking a cruise back to Arashiyama in the traditional Edo era boat.
Getting around Kyoto during this 2 day itinerary
In this section, we will give you all the transportation information needed for getting around Kyoto while using this Kyoto 2 day itinerary. But first:
How to get to Kyoto?
Depending on where you're arriving from, the most convenient mode of transport to use will change. There are many options, but the preferred ones, in my opinion, would be either plane or train.
Check out the website of the Ministry of Foreign Affairs of Japan to see any restrictions and visa information
By train
It's extremely convenient to travel all over Japan with trains. It's fast, comfortable, and relatively cheap if you have the Japan Rail pass. Plus, riding a Shinkansen – the bullet train, which travels with speeds up to 300km/h, and even a bit higher on certain segments, it's definitely a Japan bucket list experience!
We personally spent two and a half days in Kyoto, arriving to the cultural capital of Japan around lunchtime from Hiroshima, after spending approximately two hours on the supermodern Shinkansen and changing in Shin-Kobe. It's the perfect way if you're following our 10-day Japan itinerary, and it gives you an extra afternoon in Kyoto as well! Win-win!
If you're arriving from Tokyo, taking Shinkansen works as well, as the cities are only 3 hours apart and there are frequent services between them. And it's a great use for your JR pass!
By plane
If you plan to arrive in Kyoto by plane, the nearest airport is located in Osaka – the Kansai international airport. From there then you can choose between a train, bus, or taxi to get to Kyoto. We recommend taking the train – the Haruka train, especially if you have a JR Pass, as it's the fastest and most convenient way.
A word about Kyoto city transit:
During your stay in Kyoto, you'll be using Kyoto city buses and possibly metro to get to the places suggested in our 2 day Kyoto itinerary. You'll also be using local JR trains to get to Arashiyama and Fushimi-Inari (convenient, as we have the Japan Rail pass).
You may either get individual tickets for each bus trip (flat fare of 230 YEN, paid to the driver with exact change), or a one-day (or two-day pass) for either bus only or bus and metro.
While our itinerary doesn't require that many bus or metro trips to make the one-day pass worth price-wise, it is still a convenient option as you don't have to buy the ticket all the time with exact change and the difference is after all rather negligible (one-day pass for the bus is cheaper than individual tickets if making at least 3 journeys by bus; one-day pass for bus and metro is cheaper than individual tickets if making at least four trips a day).
For all the Kyoto city buses except bus 100, you get on the rear door and get off the front door, paying the driver when leaving.
For some reason, it is the opposite for bus 100, which is probably the most popular tourist route as it runs from Kyoto station to the southern and northern Higashiyama district.
The exact change is needed and there is a flat fare of 230 YEN (for stops within city limits). For the metro, you can buy tickets from the machines located at each station. The fare depends on the distance travelled.
The website of Kyoto city buses and subway has valuable information including route maps, types of tickets, and how to use the day passes (the timetables are only available in Japanese, however, the buses run often enough so one can do without a timetable).
Day of arrival
We suggest arriving in Kyoto before noon to give you enough time to enjoy the southern Higashiyama district. If needed, luggage may be deposited in the lockers at Kyoto station (change needed).
From the station, you'll be heading to the amazing Kiyomizu-dera temple. We recommend taking bus no. 100, the bus stop is just outside the northern side of the railway station (to be precise, the platform is D1).
This is a popular line, though, so the bus will probably be crowded with tourists (with everybody getting off at the Gojozaka stop for Kiyomizu-dera temple) – as you might have noticed in an image in the beginning of the article.
The other option would be a taxi (more comfortable, though not really much faster due to traffic) or walking (approximately 45 minutes).
After Kiyomizu-dera, the charming southern Higashiyama district is best explored on feet.
In the evening, if you need to return to the railway station, take bus no. 86, 100, 110 or 206.
Getting around Kyoto – day 1
For the shiny start of day 1 (or technically day 2, if you arrived the previous day), you'll take a bus to the shiny Kinkaku-ji temple. Several buses run there from various places in Kyoto – 12, 59, 101, 102, 111, 204, 205.
We suggest you ask at your hotel which of these would be the most convenient depending on the location of your hotel. You may also check the route map here.
After visiting Kinkaku-ji, we suggest walking to Ryoan-ji – it takes between 15 to 20 minutes. Then walk back to Kinkaju-ji and take bus no. 102 or 204 to Ginkaku-ji.
If you're visiting Kiyomizu-Dera temple now, again, it can be reached by first taking the bus nr. 101 to the Kyoto station and then transferring to bus 100 to Gojozaka.
Having enjoyed the marvellous Ginkaku-ji, walk through the so-called Philosopher's Path in northern Higashiyama towards Gion district.
Getting around Kyoto – day 2
On day 2 of our 2 day Kyoto itinerary you'll be using the local JR trains (with our JR pass) to get from Kyoto station to Fushimi Inari Shrine in the morning and to Arashiyama in the afternoon.
To get to Fushimi Inari Shrine, take the JR Nara Line to station Inari. It's a short 5-minute journey, with about 4 services an hour.
From the station, it's a very short walk to the entrance of the shrine and then a bit longer walk through the mysterious torii gates – in fact, you can turn wherever you like or make it all the way to the top of Mt. Inari (about 150m / 500ft elevation gain).
In the afternoon – or as early as you've walked through all the mysterious torii gates there and back – we'll take a train again, this time JR Sagano Line, from Kyoto station to Saga-Arashiyama station. The journey time is about 15 – 20 minutes and there are again 4 or 5 services an hour.
Explore the charming Arashiyama district on foot. There's enough here to keep you occupied for half a day.
If you wish to hop on the Sagano Scenic railway, the train departs from the station just adjacent to JR Saga-Arashiyama station (the station is called Saga torokko station).
The romantic train ride lasts about 25 minutes, with a departure every hour (this train is not operated by JR, thus the JR pass is not valid for this train).
For more information check their website.
For the way back, you may use the same train or, even better, book a Hozugawa river boat ride, lasting about 2 hours. The boats depart from the boarding site which is about a 10-minute' drive by bus or taxi or a 30-minute walk from the scenic railway's terminus (Kameoko torokko station).
The last boat departure depends on the season, however even in the main season it is rather early at 15.30, so if you wish to do the romantic, scenic and adventurous ride, do it as the first thing when you arrive in Arashiyama, or even consider going to Arashiyama Bamboo forest in the morning and to Fushimi Inari in the afternoon. For more information about the boat ride, check the Hozugawa-kudari website.
Conclusion about the Kyoto 2 day itinerary
It's quite a lot to cover in 2 days, isn't it? But it's definitely worth it!
We hope you find this Kyoto 2 day itinerary helpful!
---
Like this post? Pin it!