Best ryokan in Hakone with private onsen – top 8 of 2023
Staying in a ryokan with private onsen in Gora, Hakone, was one of the best experiences we had in Japan.
There's a subtle luxury, traditional Japanese hospitality and culture, incredibly tasty food (kaiseki is something else when you're in a ryokan)… There are just so many things that I loved about our experience!
Whenever someone mentions wanting to go to Japan, I recommend that they stay in a ryokan, preferably somewhere in the Hakone area. That's how much I loved it.
No time to read it all? Here are my top 3 picks
Kijitei Hoeiso
✔️ Private indoor onsen
✔️300 years old
🚫Set further away from everything
This post may contain affiliate links, which means that if you purchase anything via them, we might earn a small commission – at no extra cost to you. Check our affiliate disclaimer for more information.
What is a ryokan and what is an onsen?
Ryokan is a traditional Japanese inn. They offer the best level of Japanese hospitality (luxury hotels can learn something). Quite often for the extra experience of tradition, they offer yukatas and kaiseki meals to the guests.
Onsen are hot baths that are fed by thermal waters. The baths can be public or private and are enjoyed nude. Almost always the baths are gendered – as in, women go in one, men – in another, or at least at different times.
A tip: for the complete experience, choose a Japanese style room if there's a choice – some ryokans offer "Western-style" rooms as well.
There's actually a specific etiquette that you need to follow when visiting either. We've explained it more in our article on what should you know when staying in a ryokan and visiting an onsen.
So, why should you stay in a ryokan in Hakone with a private onsen?
Hakone is a part of the Fuji-Hakone-Izu National Park which is definitely a place to visit during your vacation in Japan! It's located less than an hour from Tokyo (Shinkansen for the win!) so it can even be done as a day trip if you wish.
But the real treat to add to such a journey is staying a night in a ryokan in Hakone with a private onsen. It's one of those bucket list experiences of Japan – definitely a "cannot miss this!" kind of thing.
Whether there's a private onsen in your room in the ryokan (that can happen!) or a common one for the hotel, it just gives you that complete immersion in the traditional Japanese culture.
Staying in a ryokan is also a great way how to immerse yourself in traditional Japanese culture and experience hands-on the very best of Japanese hospitality. No matter how many luxury hotels you've stayed at, a ryokan is a completely different, much more personalized experience.
As for why Hakone – it just adds something even more special to the ryokan experience when you're staying in a place that is surrounded by nature.
Best ryokans in Hakone with private onsen
Well, you can find everything from small, family-run ryokans to huge, luxurious ones. The choice here is incredible!
You should know, though, that the best-rated ryokans are booked out very soon in advance, so don't wait until closer to your travel date to book any. If you're worried about the trip being cancelled (I completely understand that), for your peace of mind you can check out some that offer free cancellation.
Unforutunately, I couldn't source the actual images of the hotels, at least not in a legal way, so enjoy the pictures from our stay in Hakone!
Tensui Saryo, 5*, in Gora – a ryokan in Hakone with private onsen where we stayed ourselves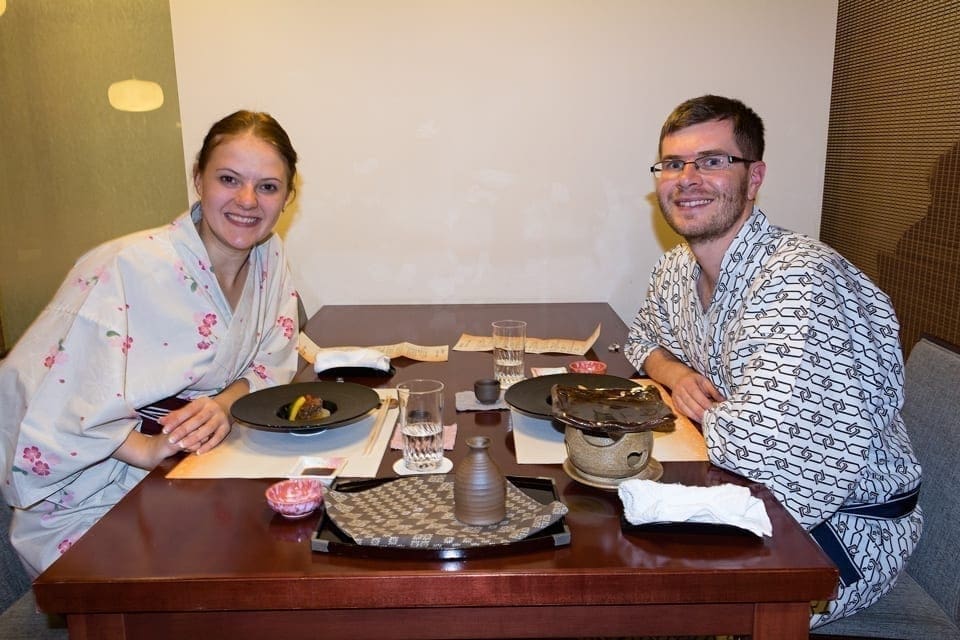 We definitely can recommend Tensui Saryo. From the very time we arrived, until the very end, it was amazing.
On arrival, you get a foot bath and a welcome drink. My recommendation – get a plum wine with ice. In the rooms, yukatas and traditional shoes await you.
Go to the onsen, or to the rock bed, have a massage, or maybe it's already time for your kaiseki dinner?
There are different rooms available, and I'd recommend you splurge as much as you can. But definitely go for a Japanese-style room – you can have Western in any other hotel! And if you can, get a room that has an onsen in the room itself. The best would be if your room was on the upper floors – there you get a view of the Hakone mountains!
The hotel is close to Hakone Gora park and the Gora station. That is perfect for going on a trip around the Hakone area. Plus, you don't need to think of a transfer between the station and the hotel when arriving and leaving.
To see prices and reviews, check: booking.com
---
Gōra Kadan – the best ryokan in Hakone with a private onsen
Gōra Kadan is said to be the best ryokan in Hakone with a private onsen, and it's for a good reason. It actually used to be a summer retreat for the Imperial family members! It's the Kan'in-no-miya Villa that was built in the early 1900s.
So if you'd like to enjoy the traditional Japanese luxury (and you're able to pay for it), go for Gōra Kadan.
The rooms are big (and the suites are enormous), nicely decorated in a traditional Japanese style with a bit of a modern touch, and have mountain views. If you go for the non-standard rooms, you'll even have an open-air onsen in your room.
The onsite spa has different kinds of massages available, including an in-room shiatsu massage. And, of course, there's an onsen available.
Gōra Kadan's kaiseki restaurant serves, well, kaiseki food, which means it's seasonal and freshly prepared. All of the stays come with breakfast and dinner included, but you can order lunch (as well as box lunch) if you'd like, too.
okcs Retreat Hakone villa, 4* – if you're looking for a child-free ryokan in Hakone with a bit of a Western feel
An adults-only ryokan that gives you a bit more peace – and that's coming from a mom of a toddler, haha.
Okcs Retreat Hakone villas are located within the surrounding forests. There are huge windows on the villas that let through soft sunlight which really gives you the feeling of immersion in nature. The ryokan is really invested in preserving the nature around it, so the paths between the villas and the bathhouses and restaurants can be quite broken and can be going up and down. Keep it in mind before booking.
The water in the hot spring bath (onsen) is directly sourced from the volcanic springs and is thick in texture and milky in colour. The chloride spring with acidity contains calcium, magnesium, and sulfate. There's a fresh-water bath outside if the volcanic one seems too strong. The all-cypress bathroom has big windows which help with the "onsen in nature" feeling.
The only thing that I'm not too keen on is that they have only Western-style guest rooms. Otherwise, it would have been perfect. You do get a private onsen in the room, though.
To see prices and reviews, check: booking.com
---
Yuyado Yamanoshou, 3* – a traditional Japanese ryokan with private onsen
Yuyado Yamanoshou is a ryokan that is dedicated to being as traditional as possible. They even have a Hori Kotatsu for heating, which is a traditional Japanese way of heating. Although, instead of coal they now use electricity as the heat source.
The ryokan itself is located very close to some museums, such as Hakone Lalique Museum and Venetian Glass Museum, as well as the Hakone Botanical Garden of Wetlands. The Hakone Yumoto station, though, is more than 9km away.
The rooms are traditional Japanese with tatami floors. There's a half-board available, and from the reviews, it seems that there's an abundance of very tasty food for both breakfast and dinner. So it's definitely something to try out.
The water for the outdoor hot spring baths comes from the Owakudani Onsen, which is a famous hot spring in Hakone. To visit the onsen, you need to reserve a timeslot of one hour. After 11 in the evening, though, there are no reservations needed.
The price of the stay is very reasonable for what you get, especially for a ryokan in Hakone with a private onsen.
To see prices and reviews, check: booking.com
---
Kijitei Hoeiso, 4*, a traditional Japanese ryokan with private onsen set amidst the mountains and a river
Kijitei Hoeiso is a 300 years old ryokan that was moved to the current location approximately 50 years ago. It's set in an incredibly beautiful location, surrounded by nature. There's a gorgeous garden as well which guests can enjoy and both indoor and outdoor onsen.
All the rooms of the Kijitei Hoeiso have views of nature – either garden, mountain, or river. The rooms themselves are traditionally Japanese and have private indoor baths, and there's a villa that doesn't have a private bath. Although the guests of the villa can use one of the open-air hot spring baths in the garden and enjoy the views of the river flowing by.
The place itself is approximately 10 minutes by bus from the Hakone-Yumoto train station.
To see prices and reviews, check: booking.com
---
Hakone Airu – a luxurious ryokan with private onsen in the room and a tropical-style open-air bathhouse
Hakone Airu gives a bit of a tropical touch to Japanese luxury. It's kind of a mix of them.
Each of the rooms in the hotel comes with an attached open-air hot spring bath – and they have a mountain view! This gives you the perfect opportunity to just soak in the hot springs which get their water from Hakone Yumoto as long as you'd like and enjoy the view.
Breakfast and dinner are served in the room as well – they have dining areas. When making a booking, you can choose what dinner you'd like: sushi, steak, shabu-shabu, or none. I definitely suggest getting a dinner, though, because that just completes the Ryokan experience.
There's a bar in Hakone Airu which has a wall-sized aquarium. It looks magnificent!
As for the location and access, the ryokan is located a 10-minute walk from the Hakone Yumoto station. It's a 2-minute taxi ride or a 3-minute shuttle bus ride away (100yen per person, you have to contact the hotel in advance).
To see prices and reviews, check: booking.com
---
Yoshimatsu, 4*, a traditional Sukiya-style Hakone ryokan with private onsen near lake Ashi
Yoshimatsu is a very beautiful ryokan with a small and beautiful garden walking distance to lake Ashinoko cruise station in Hakone. It's surrounded by bamboo trees and overlooks lake Ashi and Mount Fuji. It looks incredible, honestly. I'm pretty sure this ryokan in Hakone with private onsen has one of the best views.
They have different styles of rooms available, all made using the traditional Japanese techniques called sukiiyazukuri. The luxury rooms have their own outdoor hot spring baths, and the most luxurious one even has a view of Mount Fuji.
There are two large communal baths (Sagami-no-yu and Suruga-no-yu) that are connected to the open-air bath and a private bath available. And then, of course, the rooms which have their own private baths. There's a garden as well with koi ponds.
Overall, it looks like a very beautiful ryokan in Hakone with a private onsen. Plus, instead of a "normal" check-in at a counter, you are welcome to sit down with a cup of tea and cookies while the papers are prepared. That's what I call a luxury check-in!
There's a free shuttle to and from Hakone Machi Bus Station.
To see prices and reviews, check: booking.com
---
Hakone Ashinoko Hanaori, 4*, – a well-priced Hakone ryokan at an incredible location with a view of Mount Fuji
Another beautiful place right next to Lake Ashi, this time next to the Pirate Ship port and the Hakone ropeway Togendai station. It's quite easy to get to the
The rooms are set in a Japanese-Western style. Some of the rooms face lake Ashi and some have their own private open-air baths.
Otherwise, there are two large communal onsens available. One of them faces lake Ashi and the other one – the hotel garden. For couples that would like some more privacy, there's a private onsen available for an extra charge. And there's a sauna, as well as massage services in Hakone Ashinoko Hanaori.
Near the lobby, there's a footbath that has an incredible panoramic view of Lake Ashi.
There's a free shuttle bus from the Odawara station. It operates on a first come – first serve basis, so make sure to reserve it in advance.
To see prices and reviews, check: booking.com
Last few thoughts about ryokans in Hakone with private onsen
Is this a full list of Hakone ryokans? Of course not!
It's just the ones that I found to be amazing for many reasons.
Which one is your favourite one here? Or maybe you like some other ones better? Let me know in the comments!
---
Share or save for later!