Unique things to do in Venice: 11 unseen activities
Everyone knows that when you visit Venice, you should explore the canals and bridges, visit the Saint Mark's Square, ride a gondola, go to Burano, and similar things. But there are so many more unique things to do in Venice as well!
So, if you have time left in Venice to do something more than the must-do's, consider adding one of these more unique things to your itinerary!
At a quick glance: My favourite unique things to do in Venice
This post may contain affiliate links, which means that if you purchase anything via them, we might earn a small commission – at no extra cost to you. Check our affiliate disclaimer for more information.
If you're travelling with your other half and you're looking for some romantic unusual things to do in Venice, consider a romantic sunset tour on a boat instead of a romantic gondola ride.
Yes, it will most probably not be a private boat ride, but it will be that much more special than a gondola ride!
You'll get to cruise a typical Venetian boat through the lagoon and see the islands of St. Andrea and Vignole, then cruise along the Lido. Afterwards, head towards the quiet islands of San Lazzaro degli Armeni, San Servolo, San Clemente, Le Grazie, Giudecca, and San Giorgio Maggiore.
Between San Giorgio Maggiore and Giudecca, you'll get served a glass of Prosecco. Sip it and enjoy the majestic views of the Salute Church and St. Mark's Square.
It honestly sounds very romantic.
If you don't want to share it with other people, you can splurge on a private tour as well.
2. Guided kayak tour – one of the most active unique things to do in Venice
If you want to see Venice from the water but are not excited about being driven around in a gondola, why not consider kayaking?
There's a 1,5h kayak trip available during which you can explore the smaller canals (rii) and even go to the lagoon, if time and the level of skill of the group members allow it.
The guides even tell you some interesting things about Venice's history and what makes the city so special.
Just make sure to take a change of clothes with you in case you get splashed! Life vests and kayaks are provided.
If you'd like to explore the lagoon more than the "streets" of Venice, there's a 4h tour available. During it, you navigate to the islands of Sant'Erasmo and Vignole, as well as Lazzaretto Nuovo (where quarantine was invented!), Sant'Andrea Fort and Certosa island.
Check availability
3. Watch the sunrise from Rialto Bridge and Accademia bridge one of the most unusual things to see in Venice
Going out in the early hours in Venice is a clever idea because it gives you the chance to enjoy the best of the sights without all the crowds. You won't be alone by any chance, but there will be less people about.
You will probably find quite a few people with tripods and serious cameras on the bridges, though, as the view is incredible – it's one of the best places for photographing Venice.
The Accademia bridge gives you a beautiful view of the basilica Santa Maria della Salute and the surrounding lagoon.
From the Rialto bridge you'll see the Grand Canal in all of its glory, with vaporetto stops, boat piers, and restaurants.
Both of them look gorgeous during dusk as well!
4. Visit one of the many gardens in Venice – experience Venice of the beaten track
Yes, Venice is a city, and it has many channels.
But it has quite a few gardens as well, and they are beautiful!
Some of the most famous, beautiful, or convenient are:
Gardini della Biennale (Gardini Napoleonici) – the park where the Venice Biennale festival takes place every year. They are also called Napoleon's gardens because Napoleon is the one who wanted them built. It's the biggest park in Venice and also, one of the very few which has a play area for kids.
Giardini Papadopoli – located just by the train station, so you can relax there while waiting for the public transport. Previously, there was a convent here, but it was demolished so that the park can be built. We actually enjoyed the garden while on our Venice trip.
Giardini Reali (The Royal gardens) – one of the most central parks in the city, as it's between the San Mark's Square and the lagoon. It's one of the most beautiful green oases in Venice that underwent a restoration in 2019. Located just on the waterfront, you can basically enjoy the best of Venice – the Grand Canal – in a more relaxed setting.
Scala Contarini del Bavolo is an outside staircase of the Palazzo Contarini del Bovolo. The palace was built in the 15th century as one of the residences of the Contarini family. It's located on a less-known street near Campo Manin, not too far from the Rialto bridge.
The staircase leads to a viewing platform that offers nice views of Venice.
You need a ticket to go inside the palace and access the staircase.
6. Watch a show at Gran Teatro La Fenice
Fenice means "Phoenix" in Italian, and this name of the theatre house is no accident. The thing is, La Fenice has burnt down a few times, but has risen from the ashes.
It's an incredible place not only because of its historic value, but because it's so magnificent as well!
You can go for a tour, of course, but a more unique experience would definitely be watching a show.
Just know that people really dress up when going to a theatre or an opera in Italy, so make sure to pack something appropriate.
7. Go to the Lido
If the weather is nice and you find yourself thinking "ah, I wish I could just lie on the beach right now", go to the Lido!
Lido is a small barrier island a 15-minute vaporetto ride away from Piazza San Marco.
Beach things are just one of the items on our Venice packing list
There are free beaches available where you can just lie down and suntan. The toilets on the free beaches are paid, so be sure to have some change with you. But if you wish, there are paid beaches where, for a cost, you get to use sunbeds and
8. Visit San Giorgio Maggiore church and island
You know that postcard look of Venice?
I mean this one right here.
Yes, it is possible to go that island right there.
It's the chiesa San Giorgio Maggiore on the island of the same name just off the coast of Venice. Honestly, it's so close that from a distance, you can mistake it as being connected to the main Venice.
San Giorgio Maggiore is important as a historical landmark, as it's the first church that Palladio designed completely from the beginning to the end.
You can visit it quite easily – there's a vaporetto service to the island.
Visiting San Marco's Basilica and Doge's Palace is probably on everyone's bucket list, which means that the places are usually crowded.
How to avoid the crowds? Well, visit the places after hours!
This has recently become more popular, but still, I'd say it's one of the unique things to do in Venice.
There are guided tours available which let you explore sights such as Basilica di San Marco and Palazzo Ducale after hours, that is, with much less people.
You get to explore these two highlights of Venice in groups of up to 20 or 30 people, depending on which tour you choose. It's possible to visit just the Basilica, if you're not interested in exploring the apartments and artwork of the Doge's palace.
These two unique things to do in Venice start late in the evening – if you want to go for just Basilica, the tour starts at 9PM. The tour for both Palazzo Ducale and Basilica starts at a time when the palace closes, which sometimes varies. Usually it's after 5PM, though.
Eh, it would have been so awesome to see the Pala d'Oro without all of the crowds. Too bad I didn't know about this option when we visited Venice!
10. On the same note – see how unique Venice is after sunset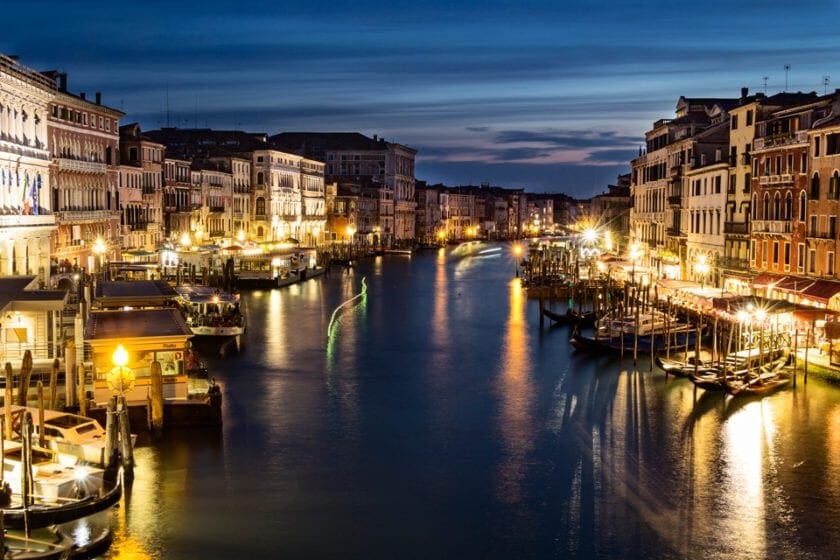 It almost seems like the city changes after sunset. Everything just looks so different!
The small streets seem to be more mysterious, the waters – deeper and darker. Feels like going back in time to Medieval times, even.
And what's more important, there are way fewer people, so you get to enjoy Venice without unneeded interruptions, someone messing up your picture, crowds blocking the view, and so on.
Yes, as you can see, I don't exactly enjoy crowds of people.
Although, if you get off the beaten track in Venice and just pretty much get lost in the city, you can enjoy it without crowds during the day as well. But that's not really one of the many unique things to do in Venice – pretty much everyone suggests it, and for a good reason, haha.
If you don't feel like walking around and getting lost, there are tours which you can join: one where you can explore the prison, a ghosts and legends tour, and many more.
I'm not exactly a tour person, but sometimes it's worth it if you'd like to learn more about the area you're visiting. Venice has so much to see and so much culture in it, it's really hard to read everything.
There are many tours to choose from, obviously.
Some of my favourites were
Magic Venice which goes through all of the gems in our itinerary and then some
Venice City Break, which covers the gems, plus a shipyard, mask making studio, San Giorgio Maggiore island, and more
Hiking in Dolomites, which ends and starts in Venice. On this tour, you get 2 nights in Venice and the rest (seven nights) are spent in Dolomites. If you're unsure about how long you'd like to be in a city, this is the perfect option – you get to see the magnificent Dolomites, and enjoy the best of Venice.
And then, of course, there are many tours where Venice is just one of the highlights in addition to such places as Rome, Milan, Florence, and on, and on.
Last thoughts on unique things to do in Venice
Are these all the unique things to do in Venice?
Of course, not.
There are lots and lots more. Most of them, though, I've seen mentioned in other (awesome) blogs.
Examples:
Visit Libreria Acqua Alta
Visit the flooded crypt of San Zaccaria
See the clock tower on San Mark's Square
Visiting Murano and Burano (which we actually have in our Venice 2 day itinerary!)
But is it still unique if all the blogs mention it?
Of course, it can be! But I wanted to list some that aren't written in every second blog, haha!
Which of these activities caught your eye the most? Let me know in the comments!
---
Enjoyed this post? Share it on Pinterest!