Renting a car and driving in Patagonia: a complete guide
Patagonia is a wild and remote place, with quite some distances between the sights, so you need a way to get around down there. We ourselves rented a car, so I've put together some information you should know about car rental in Patagonia.
This post may contain affiliate links, which means that if you purchase anything via them, we might earn a small commission – at no extra cost to you. Check our affiliate disclaimer for more information.
Should you take a bus or rent a car in Patagonia?
So, first things first. You basically have two ways of getting around – car rental or taking a bus, although I have read of people hitchhiking in Patagonia, so that might be an option for some as well.
To figure out if you should rent a car or go on a bus, you basically must figure out your preferences and budget, plus you must think of what the goals of your trip are.
If you plan to go on some multi-day hikes, like the classical 5-day W trek, consider the bus service – you wouldn't use the car at all during the days you hike, so there's no point in paying for it.
If you prefer a mix of one-day hikes with the ability to explore some other interesting locations in the parks, renting a car is recommended.
The car is a more expensive option, but it gives you the freedom to move around and be flexible. This might be useful if you, for example, wish to make that one amazing hike in Torres del Paine on the day with the best weather.
It should also be noted that if the car is shared by 4 people, the cost per person is actually very similar to the cost of taking the buses all the way.
Why we chose to rent a car in Patagonia instead of taking a bus
During our Patagonia 10 day itinerary, we went to Punta Arenas and Torres del Paine National Park in Chile, and the Los Glaciares National Park in Argentina, including El Chalten, El Calafate, and the Perito Moreno glacier.
That is quite a lot of ground to cover, and we would lose a lot of time if we wanted to take a bus.
Plus, we didn't want to take any multi-day hikes, just a couple of full-day hikes (in the end we only got to take a single full-day hike to Laguna de los Tres by the Fitz Roy because of the weather), which would be one of the reasons the bus would be financially a better choice.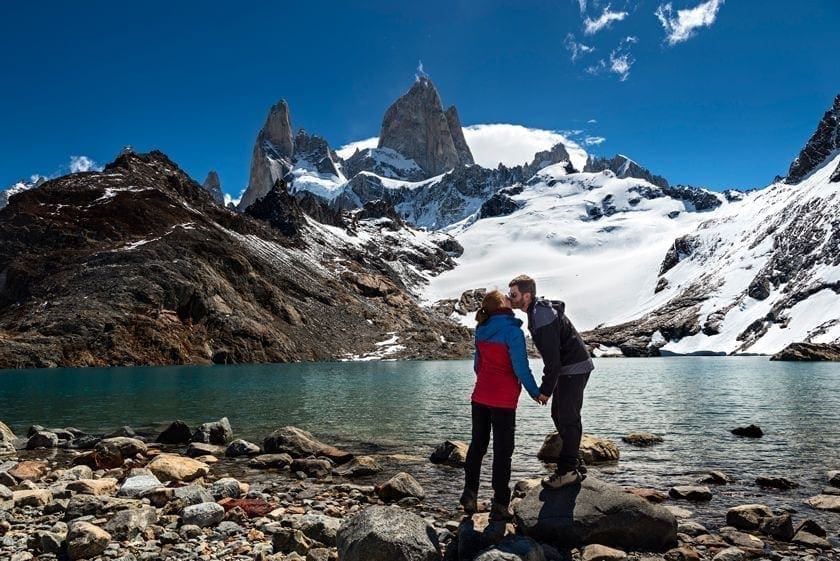 And we like the freedom that a car provides because we could just stop wherever and go explore.
Plus, we had a month worth of luggage both for freezing and extremely hot temperatures – that would be rather inconvenient to carry around.
Why you should not be afraid to drive by yourself in Patagonia
I'll expand a bit on the point of why driving by yourself in Patagonia is an excellent idea.
First, "the weather in Patagonia might be a bit tricky" is quite an understatement. You can easily have all four seasons in one day. And the wind is so crazy!
The bus service, though, is rather limited. So, for example, if you go for a hike, but the weather suddenly changes from sun to snow and rain (been there, done that) and you need to postpone or cancel the hike, you're stuck.
With the bus tours that are possible in Patagonia, you can't just stop in the middle of the road to take a picture of the incredible mountains. Although, of course, the tour guides will stop at the most popular spots, everyone's tastes are different, and you are bound to miss some sights.
Sightseeing, though, is one of the best things to do both in Torres del Paine and in Los Glaciares.
What you should know about driving in Patagonia
It's not so hard to do a self-drive itinerary in Patagonia. Honestly, it's one of the best places to drive by yourself during the vacation.
Is it easy and a pleasure? Well, yes. But there are a few things you should know.
Beware of the wind
There's a good chance it will be windy (or even bloody windy) while driving, so keep both hands on the steering wheel. It is especially important if meeting a bus or a truck in the opposite direction, as the change in the strength of the wind will make the car sway from side to side.
Park "into" the wind and do not forget the parking brake. If you do forget, then your car might get blown away (not kidding.).
Be careful when opening the doors – the strong wind can break them if it's coming from the back. Plus, make sure you don't have any loose items in the car that can be blown out by the wind. And it's a better idea to open the doors one at a time, to minimize the chance of things flying away.
And beware of the wild animals
Gerson from ADEL Rent a car Punta Arenas, the rental car company that we used in Patagonia, said – "if you see a guanaco on the side of the road, know that there are at least ten more where that came from". So, if you see a guanaco, better stop and wait for it to cross!
The roads aren't bad (or, THAT bad)
The roads are generally empty – there is next to no traffic and they are in quite a good condition.
And, as a side note, they drive on the right side of the road.
There are some gravel roads (for example, in Torres del Paine, as you can see in the picture before), and normal precautions should be taken when driving on those.
For example, drive slower to avoid damaging the car, ensure that it's safe to drive after rain, and don't drive in loose sand and big puddles.
Also, there are some asphalt roads with potholes.
You don't need a 4-wheel drive
Especially if you follow our Patagonia 10 day itinerary, a 2 wheel drive is definitely enough for you.
Some of the roads are bumpy and most of the roads in Torres del Paine National Park are gravel, but just keep the speed down on bumpy sections.
If you decide to go more south, to Tierra del Fuego National Park, for example, it might be better to have a four-wheel drive, though, as the roads are quite bad there.
Keep an eye on the fuel
The whole area of the Parque Nacional Patagonia has only a few gas stations – in Punta Arenas, Puerto Natales, Esperanza, El Calafate, and El Chalten, so it might be a good idea to have some extra fuel in a separate container (supplied by the rental agency).
The same goes for the different popular road trip routes that go to Patagonia, for example, the Carretera Austral and Ruta 40 – the gas stations are few and far apart.
Plus, they mostly accept only cash. Some of them operate only during daylight hours.
The GPS does not work properly in Patagonia
When we were going through different papers in our car rental in Patagonia (Punta Arenas, to be exact), the man from the rental agency pulled out a paper map and said the words that made my heart drop: "GPS is very, very unreliable here, so you should use this map instead".
When I found out we will have to navigate by maps, I was honestly scared. My first thought was – how are we going to deal without a GPS?
But then it hit me – not too long ago there WASN'T any GPS to talk about in Latvia. We were all using paper maps for navigating while driving!
And honestly, there are not too many roads in Patagonia, plus they all have excellent signage. You can even navigate without a map!
Also, the whole area is very sparsely populated and doesn't have cell phone coverage in most of the unpopulated areas.
Safety while driving in Patagonia
Driving in Patagonia is generally safe, but, of course, normal precautions should be observed. Such as, don't leave your valuables in plain view.
Carry all your necessary documents – passports, car papers, driver's license – with you as well, as the police might ask for them.
What driver's license do you need for driving in Patagonia?
Condor Campers actually have contacted the Ministry of Transport and the Argentinian Government to find out what driver's licenses are accepted in Argentina and Chile.
The information from 16th October 2018 is that tourists from the following countries are permitted to drive in Argentina for a period of up to one year holding only their National License issued in their home country:
Albania, Australia, Germany, Armenia, Austria, Belarus, Belgium, Bosnia and Herzegovina, Bulgaria, Canada, Croatia, Cyprus, Czech Republic, Denmark, Estonia, Finland, France, Georgia, Germany, Greece, Hungary, Iceland, Ireland, Israel*, Italy, Latvia, Lithuania, Luxembourg, Macedonia, Moldova, Monaco, Montenegro, Norway, Netherlands, New Zealand, Norway, Poland, Portugal, Republic of San Marino, Romania, Russia, Serbia, Slovakia, Slovenia, Serbia, Spain, Sweden, Switzerland, Turkey, Ukraine, United Kingdom, United States of American, Vatican City.
Tourists from the same countries who have tourist visas don't need an international driver's license in Chile.
What you need to know about crossing the border from Chile to Argentina and back
When crossing the border, there are some rules and, well, tricks that you definitely should know about.
There are strict agricultural controls on borders in Patagonia
You are not allowed to bring fresh fruit, meat, dairy, animal produce, and honey. That is, for example, cheese, any type of fruit or vegetables, cut meat, and bakery goods such as bread.
The cars are checked at the border crossing, so make sure to dispose of any not allowed things that you have.
If you have packaged snacks – crackers, candies, and similar – it's ok.
Other stuff needs to be either declared or disposed of – eaten or thrown out.
When crossing from Argentina to Chile, you can't have any extra fuel in a can in your car.
Some of the border points are rather far from each other
Don't be surprised – it might be kilometres from one border point to the other.
It even seemed to me that we missed the border once! But no, it came. So, just drive on – you will definitely find it!
Arrive early in the morning
The border crossing points get very full with ridiculously long lines the later in the day it gets.
Since we were driving long distances, we didn't arrive too early but got lucky. Just when we joined the line, which wasn't too long at that moment, a bus arrived.
Since every single person needs to get their passports stamped and bags checked (scanned), you can imagine how long it takes for the 40-plus people from the bus to get through the border.
The border guards are very efficient, but it still takes time.
You can manage without knowing Spanish
We don't speak Spanish but still managed without any huge problems.
There might not be any clear signs of what you need to do and where you need to go.
If the border guards see that you're getting confused, they are not hesitating to help and point you in the right direction.
In a few words – the process of crossing the border
First, you need to get your passport stamped and documents checked, then your bag and the car are searched for agricultural items and other forbidden things (like drugs).
When entering Chile or Argentina, you need the other country's exit stamp.
The immigration will give you a piece of paper with your information on it. Don't lose it! You'll need to show this paper when leaving the country again (even if leaving through an airport). Also, police might ask for it if you get stopped on the road.
You need some special permits to cross the border in a rental car
The rental company in Patagonia – both in Chile and Argentina – needs to issue a permit to you so you can cross the border. And the border guards WILL check it.
I go deeper about this a few points down.
What you should know about renting a car in Patagonia
While renting a car in Patagonia doesn't differ too much from renting in other places in the world, there are some things that you should be aware of.
For example, you'll probably get a sum of money blocked on your card for car insurance excess cover, so be ready for that, and if more than one of you plans to drive, you might need to let the car rental know.
But there are some things specific to the region that you need to take into account when renting a car in Patagonia.
Most cars have manual transmission
It is rare to find a car rental in Patagonia that will have an automatic transmission, so make sure you know how to drive it.
As a side note, you don't really need a 4 wheel drive, unless you're more used to driving it.
Book ahead of time
There is a limited number of companies and cars, but quite a huge number of tourists.
So make sure to book your company with quite a time to spare, especially if going in summer!
Plus, you never know what can happen. We had a problem with Transferwise when trying to pay for our rental car, which took a bit of time to resolve.
It would have been very stressful if we were renting at the last minute.
Dropoff in other places, not the original rental city, is very expensive
And I'm not just talking about renting in Chile and dropping off the car in Argentina – it's hard and rather expensive. I actually saw just one car rental company that allowed it.
If you rent your car in Santiago (Chile) and plan on dropping it off in Punta Arenas, for example, it can cost even more than 1700USD, but definitely upwards of 500 USD.
So it might be a better idea to just do a loop in Patagonia – for example, we rented in Punta Arenas, went to El Calafate, and drove back to Punta Arenas to drop the car off. And it was cheaper than renting a car in Punta Arenas and dropping it off in some other place.
You need a permit to cross the border in Patagonia in your rental car
If you're renting a car, you probably plan to cross the border as well.
The rental car company needs to issue a specific permit to you for crossing the Chile-Argentina border. Of course, this costs an additional sum of money.
Since the permission documents take time to arrange, make sure to let your rental company know about your intentions to cross the border at least 2 weeks in advance.
Keep in mind: it's your responsibility to let the rental company know that you intend to cross the border!
And make sure that you know where the papers are located, as you will need to show them to the border guards.
And you need proper insurance to cross the border in Patagonia, as well
Again, your car rental in Patagonia must prepare insurance that covers the other country as well, not just the original. For example, if you rent in Chile, then the car insurance might not be valid in Argentina unless the car company arranges it.
Of course, you will have to pay additionally for it.
Make sure to contact the company and find out if they offer the coverage!
Different car rental companies in Patagonia
Both Chilean and Argentine Patagonia offer small local car rental companies and bigger international ones. But there are not too many of them altogether.
We chose to rent our car in Punta Arenas for a couple of reasons.
First, we were mostly travelling through Chile, so it was convenient to fly from Santiago to Punta Arenas. Second, it was actually cheaper to rent in Punta Arenas than somewhere else.
We contacted some of the smaller companies and researched reviews of the bigger international ones. In the end, we decided to rent from a smaller local rental company – Adel rent a car in Punta Arenas – because the price seemed the most reasonable and the communication with Gerson was very good.
In the following paragraphs, I'll list some of the companies that I've found both in Chilean and Argentine Patagonia.
Car rentals in Chilean Patagonia
There are two main hubs to rent a car in Southern Chilean Patagonia – Punta Arenas and Puerto Natales. Theoretically, you could rent in Puerto Montt as well, although it is further away from the Torres del Paine National park.
Although Puerto Natales is the gateway for the Torres del Paine, we suggest renting your car in Punta Arenas, as there are more rentals available there and they're generally cheaper.
There are a few local companies in Punta Arenas to rent from, which generally don't have many rental cars, so, if you chose to rent from these, make sure to rent plenty of time before your trip.
But you can find some bigger international brands as well, for example, Keddy by Europcar or Avis.
You can rent a car both at Punta Arenas airport and in the town itself. Though, even if you decide to rent in the town, you can ask the rental company if they'd be willing to bring the car to the airport.
From the smaller companies, we personally had a good experience with Adel rent a Car in Punta Arenas. You can read more about it in our review.
Another one that seems to have rather good reviews online is LYS rent a car, which theoretically is not that small, as it has car rentals in all major cities in Chile.
The average price of a rental car in Chilean Patagonia starts from 332USD for a week.
Car rentals in Argentine Patagonia
If you prefer renting a car in Argentina instead of Chile, then we'd suggest doing it in El Calafate, as it's the most convenient spot for exploring Patagonia.
Theoretically, you can even rent in El Chalten as well, although it seems to be more expensive because they charge AR$5000 for the drop-off in El Chalten.
El Calafate has both bigger international car hires and smaller ones available.
The big ones are such known brands as Europcar, Hertz and Sixt.
The smaller ones are, among others, Nunatak, Localiza and Servi Car.
Nunatak has the best reviews on Google, although they do have some concerning reviews on Tripadvisor from 2014.
Localiza and Servi Car are both suggested by the Lonely Planet book about Argentina.
So, how to choose the best car rental in Patagonia for you?
Well, it really depends on what you want and need.
I can't tell you which company is the best, as, obviously, everyone's experiences are different.
Obviously, you should read some reviews online, but try to take into account the time when they were written as well.
And I'd recommend contacting the companies and seeing which ones you "click" with as well.
We ourselves contacted three car rental companies in Punta Arenas to see which ones sounded the best. But before that, we read a bunch of reviews and compared offers and prices. Then we chose the one that seemed the best across the board.
In conclusion about renting a car and driving in Patagonia
The 10 days we spent in Patagonia were one of the most epic road trips that we have done in our travels!
We loved having the freedom of our own car, being able to stop wherever we like and having the flexibility to change our plans according to the weather.
What are your thoughts on renting a car vs taking a bus?
---
Pin this article for later!