First time in Japan: Japan for Beginners tips
If it's going to be your first time in Japan, get ready for quite the culture shock.
Japan – a place of immense beauty and incredible culture. Where the newest advancements in technology meet centuries-old traditions.
It's so different from the rest of the world!
That's why we've put together a sort of "Japan for beginners" article full of information that will be useful for your first time in Japan.
This post might contain affiliate links, which means that if you purchase anything via them, we might earn a small commission – at no extra cost to you. Check our affiliate disclaimer for more information.
As an Amazon Associate we earn from qualifying purchases.
Quick Japan facts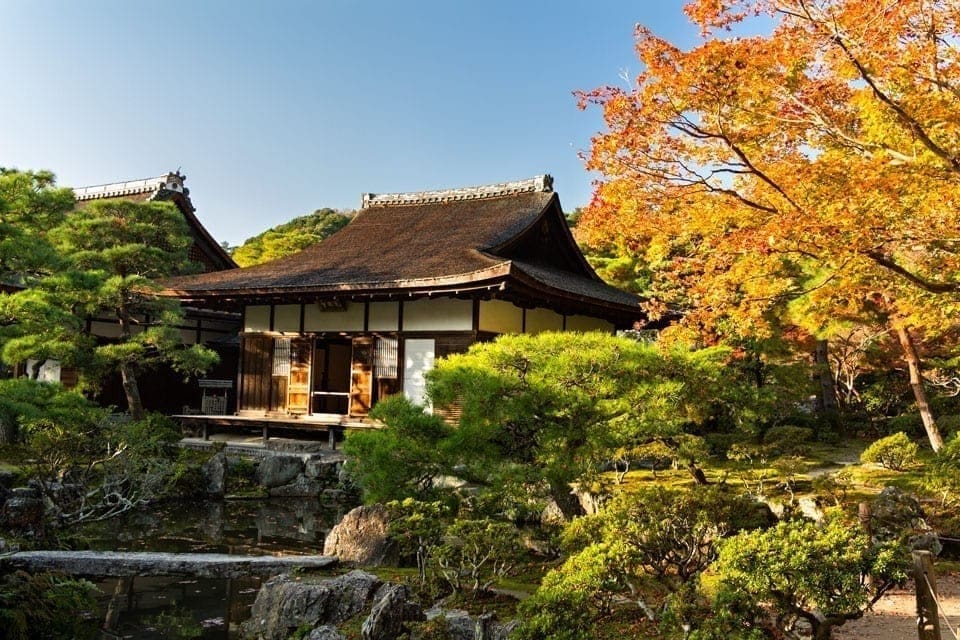 Capital: Tokyo, but up until 1868 it was Kyoto. Many people in Kyoto still feel that it is the rightful capital.
Currency: Japanese yen (JPY ¥)
Time zone: UTC +9 (JST)
Language: Japanese
Electrical outlets: 100V AC electricity. Outlets are like in the USA – with 2 flat non-polarized pins.
Entry requirements: for current information check the Japanese Ministry of Foreign Affairs
Basic information about Japan
Japan is an island nation located in East Asia, in the Pacific Ocean. It consists of 6852 islands, 430 of which are inhabited.
The 5 main islands of Japan are Hokkaido (the northernmost and second-largest main island), Honshu (the largest and most populous island where the capital Tokyo is), Kyushu (the third largest main island), Shikoku (the second smallest main island), and Okinawa (the smallest and southernmost of the main islands).
Since Japan is located at the intersection of three tectonic plates, it tends to get quite a lot of earthquakes and there are many volcanoes.
There are more than 100 active volcanoes in Japan, the most famous of which is Mount Fuji.
If this will be your first time in Japan, you'll probably want to go to Honshu, as it's where Tokyo, Kyoto, Osaka, Hiroshima, and all the other places that "define" Japan are located. And yes, Fuji as well.
Japanese language
As mentioned, and as you probably know, the main language of Japan is Japanese.
Even though English is not spoken that often, Japanese people are very willing to try and help you out – using their hands, pointing things out, and even using Google Translate.
Google Translate actually helped us a lot when we stayed in a ryokan in Gora – the attendant didn't speak almost any English, but we used the text to speech and managed to understand each other more than enough!
It is not that hard to get around for a non-Japanese speaker, though, especially in tourist areas. The public transport signs have English translations on them, so it's not really a problem to understand where you have to go, even if it is your first time in Japan.
The restaurants often have pictures on the menu or even the dishes they offer made out of plastic! And even if they don't (like some food vending machines which only have writing on them), you can always ask the staff to help – they definitely will. Or, again, Google Translate to the rescue – use the Camera function in the app, and it will translate the written text for you.
Getting online in Japan
There are many ways to get online in Japan. We personally just used the publicly available Wi-Fi, but it's possible to buy mobile routers to carry with you or just buy a whole new SIM card to use for your trip!
Wifi – most business-style hotels offer free wifi. You may also benefit from hundreds of thousands of free wifi spots throughout the country. Japan connected-Free Wifi and Travel Japan Wi-fi are among the largest providers. Both require an initial registration for free. Or you can just get your own pocket wifi.
Pocket wifi (mobile router) – a convenient option that allows you to connect more devices. The mobile router is rented from a provider for a certain amount of days and then returned, a pick-up and return at the airport is possible. Good options include Japan Experience or Klook.
Data sim card – you may get a data-only SIM card (typically valid for 8 or 30 days) at certain electronics stores. A more convenient option might be to order it before travelling from, for example, Japan Experience or Klook and pick it up upon arrival in Japan at the airport. Please note this option requires an unlocked device.
Getting around Japan
The public transport system in Japan is extremely efficient. It works like clockwork (and even if it is less than a minute late, the staff will apologize to you!).
It's so much better than renting a car or taking a taxi, especially if you want to visit some bigger cities. Taxis in Japan are generally expensive, and renting a car – with the parking and traffic in big cities like Tokyo –, in our opinion, is just not worth it.
You can take a train to get to almost everywhere you'd like with comfort, and with the bullet trains like Shinkansen, it takes very little time to travel long distances.
Plus, you can enjoy incredible views while using public transportation!
It's very convenient to have it, plus, if you want to go around Japan and don't have the JR pass, it can get quite costly…
If you'd like to move around the islands, there are some domestic flights available. Check Momondo or Kiwi for those.
How much does it cost to travel around Japan?
Japan has a reputation for being an expensive place to travel.
It can be that way, but with some planning, you can travel around Japan on a budget as well.
Accommodation
Accommodation will set you back roughly 15 EUR/USD for a dorm bed a night, 50EUR/USD per person per night with breakfast included for a middle-class hotel, and 250EUR/USD per person per night in a luxury ryokan.
Food
For food, the price varies incredibly, like everywhere else. A bowl of ramen costs roughly 8EUR/USD, and on the other end of the spectrum is Kobe beef for 220EUR/USD.
The quality of food is incredibly high, though, so don't be afraid to buy bento boxes in convenience stores and eat street food.
Transport
We really advise you to use public transport in Japan. It's very convenient and definitely cheaper than other options!
Altogether for 10 days in Japan, if following our 10 day Japan itinerary, you'd use around 30 EUR/USD on public transport in Hiroshima, Tokyo and Kyoto.
The JR Pass is more costly, setting you back a few hundred dollars – check for the up-to-date prices. It still saves you quite a lot, though, if you want to travel around Japan quickly and comfortably. Plus, you can even use it on some city transport.
If you decide to go on a trip to Hakone, the Fuji-Hakone 3-day pass would cost around 9340 yen. You can get the Hakone freepass, too, which costs less (check the price here).
Overnight buses seem to be popular with different bloggers, but we personally haven't tried them. By taking them, you'd save on hotels, so if you're trying to plan your first trip to Japan on a very strict budget, that is definitely another option for how to get around Japan!
Other costs
Temples have a small admission fee, around 3 to 5 EUR/USD. Note that you can only pay cash for these.
Entrance to shrines is usually free.
Some other costs you might encounter are ATM fees – Japan is largely a cash society and credit cards are often not accepted. So prepare in advance and carry cash with you!
Or get a card from Revolut, for example, which offers free withdrawals and small or nonexistent currency conversion fees all over the world.
Altogether costs of travelling around Japan
Depending on your choices, your first time in Japan doesn't have to be costly.
On the cheapest end, you might spend as little as 50 EUR/USD a day on lodging and food!
Not so bad for a trip to this incredible country of the Rising Sun!
Best places to visit in Japan for first-timers
Japan is full of so many different things to do!
There's everything from cities with modern skyscrapers and never-ending nightlife, to ancient temples (in the same city!) with incredible serenity, to nature – with hiking, skiing, spas, mountains, volcanoes… the list goes on!
When you visit Japan for the first time, though, it's probably a good idea to do the quintessential things and visit the must-see cities.
For your first time in Japan, you should definitely be visiting Tokyo and Kyoto. Many people add Osaka to this list as well.
Other things to include in your first time in Japan itinerary are staying in a ryokan, riding a Shinkansen, and seeing the beautiful Japanese nature, for example, in Fuji-Hakone national park.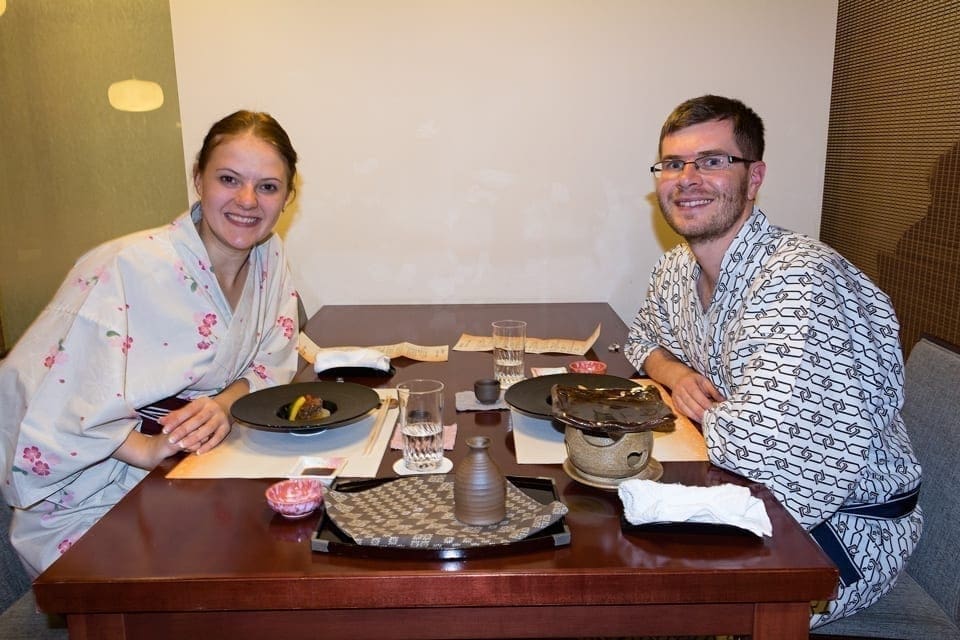 We have an article on bucket list items for visiting Japan for the first time, which is definitely "Japan for beginners" friendly. We went through the incredible number of things that Japan offers and picked the most important ones, so be sure to check them out!
Why should you visit Tokyo on your first time in Japan?
Tokyo is a city of contrasts. It has everything – from ancient temples to modern, man-made islands!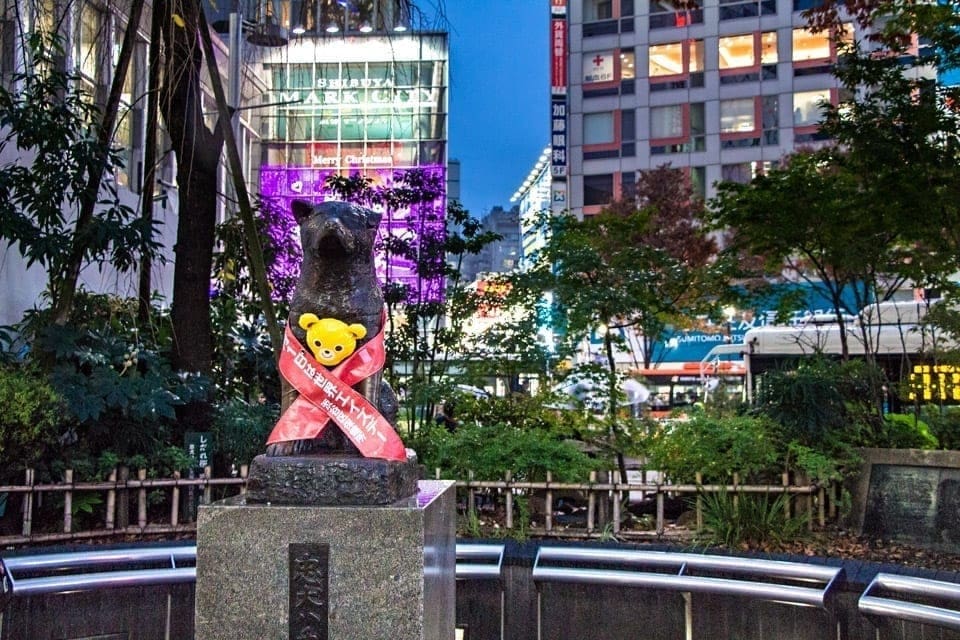 Some places to visit for your first time in Tokyo include visiting Shinjuku district with the world's busiest railway station and plenty of shopping and entertainment options, as well as the Meiji Jingu Shrine and Shibuya – another modern district full of entertainment and shopping, where the world's busiest crossroads and the famous Hachiko statue is located.
Why should you visit Kyoto on your first time in Japan?
Kyoto is definitely the most beautiful city in Japan! It has more than 1600 temples and shrines, many of which are UNESCO world heritage sites.
You can spend days upon days exploring the incredible shrines and temples, walking along the Philosopher's Path, roaming through the endless torii gates at the Fushimi Inari Shrine, and taking in everything else Kyoto has to offer.
Kyoto is definitely a place that you should visit if it's your first time in Japan!
Why should you visit Osaka on your first trip to Japan?
Food, shopping, and nightlife would be the short answer.
There are countless food options in Osaka – no wonder it's known in Japan as the Nation's Kitchen! It's almost like a foodies' paradise. And a shopper's paradise as well – prices in Osaka are lower than in the rest of Japan, plus, you can shop in the Duty-Free stores!
You can enjoy abundant nightlife as well – many of the restaurants, cafes and bars stay open late. So you can enjoy a late dinner and visit one of the many izakaya – traditional drinking houses. The locals visit them after work to share a drink and a snack. Another type of establishment to visit is the tachinomiya – bars on the side of the streets.
Inside Osaka have made an interesting Osaka 2 day itinerary, if you're considering visiting it.
Why you should go to Hiroshima and Miyajima during your first time in Japan?
Hiroshima is an incredible historical place and Miyajima, the island just off the coast of Hiroshima, is just pure magical.
For us, it seemed silly to go to Japan and not go to at least one of the places that changed the history of the world forever. Visiting the Hiroshima Peace Museum and Peace park shows you the harsh reality of what Atomic bombs do to the world… and its resilience, determination, and rising from the ashes is so inspiring!
I think everyone should visit Hiroshima to just… learn. Learn from past mistakes, ours and others, and see that it is possible to change and be better. Or at least hope for that.
As for visiting Miyajima – it's believed to be the place where God dwells. The serene beauty and peace of the island, as well as the many temples and shrines, really create a peaceful feeling.
Both Hiroshima and Miyajima are on the list of Unesco world heritage sites and are definitely worth visiting.
Why you should add Hakone to your first time in Japan itinerary
Hakone and the Fuji Five Lakes area is the best place in Japan to see Mount Fuji. Allegedly. The only time we saw Fuji on our first trip to Japan was on the way to Hakone through a bus window, haha.
But still, going to Hakone, staying in a Ryokan, and seeing the nature there is an incredible experience.
First time in Japan – what to do?
Japan is so huge with soooo many things to do… so how to choose the ones you should do – shouldn't miss?
Well, as for any place, there is a bunch of bucket list items for Japan.
And if you google them, there are hundreds of things to do in Japan on your first trip. Again, not helpful.
But we filtered through them and created our own Japan bucket list with 7 items, which includes items such as riding a shinkansen, staying in a ryokan, and celebrating Hanami or Momijigari with the Japanese. Much easier, right?
What else is there?
Best time to go to Japan
The best time to go to Japan depends on your personal preferences. Japan has four seasons, and each of them holds some charm.
The most popular times to visit Japan are the cherry blossom season and the autumn foliage. They are respectively in March-April and in the second half of November.
Less popular seasons are summer (June to early September), as it tends to be very hot and humid, as well as rainy, and winter (December to the beginning of March, more or less), which is cold, but not so crowded in the cities.
Where it gets crowded in winter is the mountains – this is peak ski season! If you'd like to snowboard or ski in Japan, this is definitely your time to visit!
The most popular summer month is August when there are many festivals in Japan if that's your thing! Also, if climbing Mt. Fuji is high on your things to-do list, summer is the best season.
What to eat in Japan?
So many choices, so many choices! Japanese cuisine is incredibly diverse and refined.
Even if you'd decide to go to Japan to just try out the food, it would definitely be worth it! And it's an incredible cultural experience as well!
There is, of course, sushi and sashimi – the best one in the world, I'd say.
But there are so many other things to try as well! Like teppanyaki, sukiyaki, okonomiyaki and other yaki. And all the delicious ramen and udon and soba and other noodle delicacies.
As mentioned before, the price range is rather wide, from 7EUR/USD to many hundreds for a meal.
Many of the higher-end restaurants, although expensive themselves, offer very good value lunches. That includes some Michelin-starred restaurants offering lunch for 10 EUR/USD!
What to pack to Japan for your first trip?
Obviously, your packing list for Japan depends on what you need to feel comfortable with, the length of your trip, and the season when you visit. Make sure to check out our packing list for Japan to get an idea of what you should take with you!
The list includes:
Comfortable shoes that are easy to take off – many of the places in Japan, like temples and even restaurants, require you to take your shoes off when entering. This is often because of the tatami floors, but also because it's more hygienic not to wear shoes inside. And make sure the shoes are comfortable – chances are, you'll be walking a lot!
A camera – you'll definitely want to take a lot of pictures in Japan, especially when travelling there for the first time!
A comfortable backpack – for your wallet, water bottle, extra layers, camera etc.
As for the clothes, check the following pictures (and the weather forecast, haha)
We were lucky that it was cold in our home country, so we had winter clothes on us when flying.
Japan for beginners – tips for your first time in Japan
Japan is such an incredible place, and its culture differs from the ones in Europe or the USA quite a lot. So, in addition to all of the useful information that's provided before, we've put together this list of "Japan for beginners" tips for first-time visitors.
These short tips will help your Japan travel planning and understanding the culture and dos and don'ts of Japan better.
1. Carry cash
Although paying with a card is becoming more popular, many places, like temples or even some stores, still accept only cash. So, to not get into an uncomfortable situation, always carry some cash with you, and don't rely just on the credit card.
If you don't feel like exchanging money before your trip, a card like Revolut can be helpful – you have free withdrawals of almost all currencies, plus really low conversion fees.
2. Tipping is not necessary
Not only is it not necessary, but sometimes it is considered quite rude. It is not expected anywhere – not in restaurants, hotels, or tours. You definitely don't want to insult the Japanese when travelling to Japan for the first time! Learn more about tipping in Japan!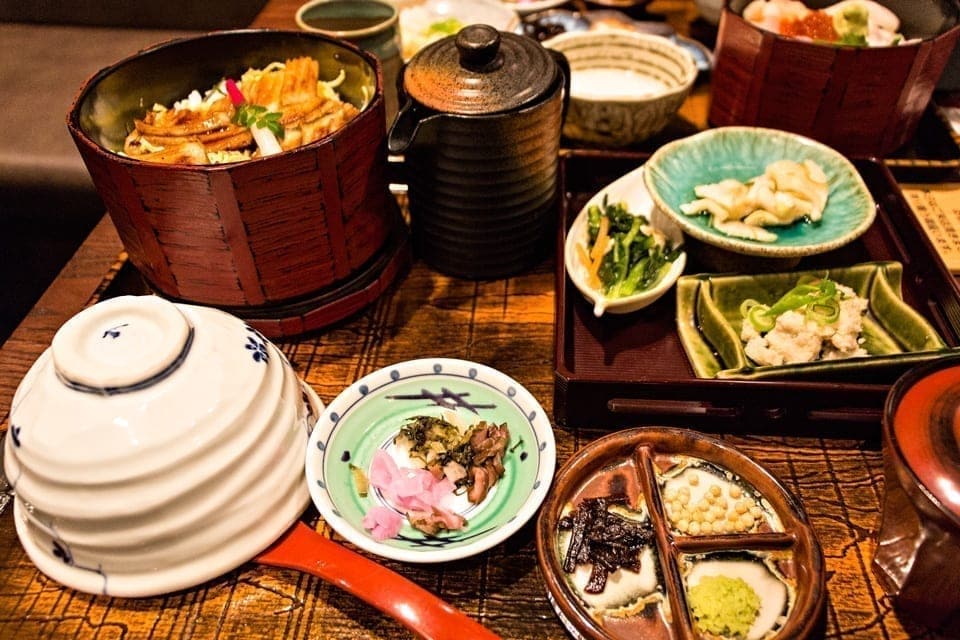 3. Wear comfortable shoes that are easy to take off
As mentioned already before, you might have to take your shoes off quite often when visiting places in Japan, like temples and restaurants.
So, make sure that you're not wearing shoes that take a long time to take off and put back on, like shoes with many laces.
You will most probably be given some kind of slippers, but if not, don't worry – the floors are CLEAN. And don't worry about the shoes being stolen – the crime rate is very low in Japan.
4. The country is one of the safest in the world
Japan has one of the lowest crime rates in the world, so you don't have to be scared to leave your umbrella or shoes by the entrance of, let's say, a restaurant.
Obviously, crime is not non-existent, so be mindful when visiting places such as entertainment districts and when using ATMs.
5. Use public transport to make your first time in Japan more special
It comes and goes on time, connects practically every place, and is relatively inexpensive. As an added bonus – everyone in your group can enjoy the views!
If you're wondering whether to rent a car or just rely on public transport, we'd definitely recommend the latter – especially for your first time in Japan!
During our Japan trip the only times we saw Mount Fuji clearly was actually on public transport, the other times it was covered in clouds.
6. Check if you can save by purchasing a JR pass
Japan Rail Pass is the most cost-effective solution for long-distance rail travel in Japan, meant only for foreign tourists to the country. It pays off the best when using Shinkansen for long-distance trips. The pass allows unlimited travel on all JR-operated trains, except for the fastest category of Shinkansen (called Nozomi and Mizuho). It comes in a 7-, 14- or 21-day validity.
Starting from October 2023, the price of the JR Passes will increase. It will come with additional benefits, though, such as – it will be possible to use the JR Pass on the fastest categories of Shinkansen as well – with a special additional payment.
But it's not always cheaper to get a JR Pass. If you don't plan on travelling long distances in Japan too much or with the JR trains, check Hyperdia and see what is more cost-effective for you – purchasing single-use tickets or a JR Pass.
7. Japan is probably not as expensive as you think
Well, it's not exactly budget travel cheap, but not that expensive either. Japan compares to Europe in terms of costs, as you could see in the budget section of this article. With some thorough planning, your trip to Japan will not break the bank.
8. Not too many Japanese speak English
Although it is becoming more common, not too many people in Japan are comfortable speaking English. You could definitely benefit from downloading an app on your phone, like Google Translate (you can download specific languages for offline use!), or taking a dictionary with you. Learning some common Japanese phrases is always useful, as well!
Some common phrases that are useful to know:
Hello – Konnichiwa
Bye – Sayonara
Thank you – Arigato
Excuse me – Sumimasen
Yes – Hai
No – Ie
9. There are not too many trash bins in Japan
And even so, the streets are incredibly clean. Japanese just carry trash with them until they can discard it in a trash bin. Be mindful and do the same! You can pack a ziplock bag, like the ones from Ikea, with you for convenience.
10. Plan to get up early
Since Japan is clearly a popular tourist destination, the popular landmarks tend to get very crowded. That's why arriving at the sights early is a very good decision – you can avoid the huge crowds and long lines. Plus, by arriving early you have a chance to get that perfect shot – without loads and loads of heads in the image!
11. Japanese people do not like tattoos
For a long time, up until World War II, they were completely forbidden in the country, and still are not wildly accepted. Before they were used to humiliate criminals, and that's what many people still associate them with.
Although tattoos are becoming more accepted, some onsen, including ones in the hotels, do not allow them or you may enter only if you can cover them. So be sure to check before booking if you have tattoos!
12. Onsen have pretty strict etiquette
Going to an onsen is definitely one of the must-do things in Japan, but be aware that there are some pretty strict rules to follow.
For example, although an onsen is similar to a bath, you have to shower before dipping in the water.
Plus, you're not allowed to wear a bathing suit (although some allow it), but you may cover yourself with a towel when going to and from the bath.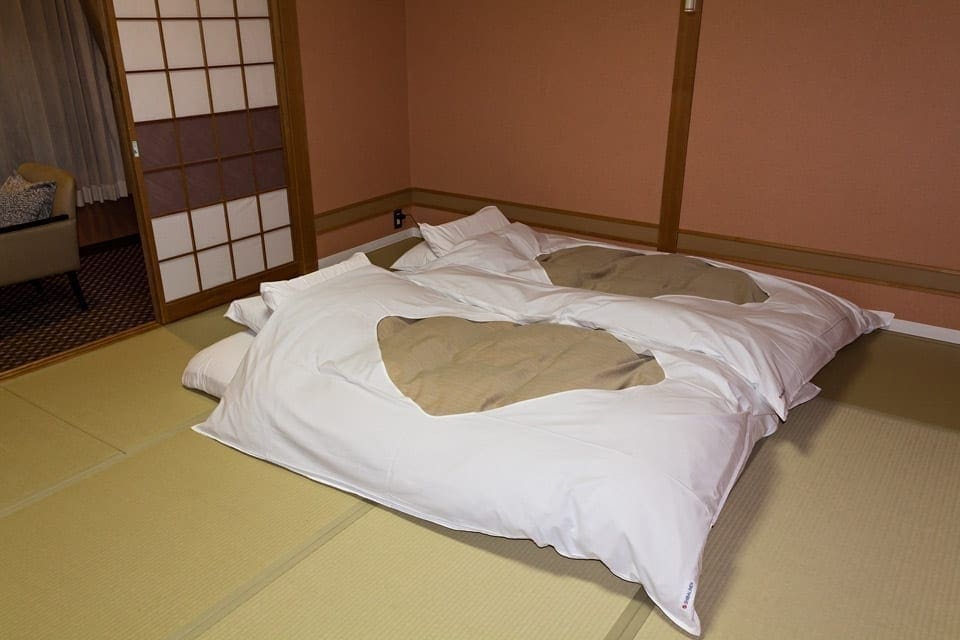 And there is so much more!
The rules might seem confusing at first, but basically – you should be respectful, modest, and clean.
The Hakone area has a lot of great ryokans. If Hakone is not on your itinerary, there are some interesting options in Hiroshima and Miyajima as well.
13. Some of the toilets are complicated
And some are very much not.
When staying in a ryokan, we were surprised to find a toilet which came with 36 buttons on it. There was everything from a bidet to a flushing sound on it.
A less complicated panel with just a few buttons (one of which was a flushing sound) was in a public bathroom – good for those shy goers!
Another time in a small train station the toilet was an actual hole in the ground.
Some toilets actually use the water in which you wash your hands for flushing. Talk about zero waste!
Yes, going to a toilet in Japan is an interesting experience!
14. Book your key activities in advance, especially for your first time in Japan
This list includes restaurants, hotels, ryokans, and attractions. Some of the best places get booked out months in advance, so be sure to not leave it to the last minute.
I feel like it's harder to be flexible when it's your first trip to a place.
And make sure to have alternatives to the things you want to do so that way you'll avoid disappointment and price hikes if something doesn't work out!
15. Japan is not vegan, vegetarian and gluten-free friendly
It's not impossible but it might be hard for you to find a place to eat if you have dietary restrictions. Most broths are made of animal products, sushi mostly contains fish products, and noodles in ramen are most often wheat-based. And Japanese consider meat to be four-legged mammals, not fish and chicken.
So, it's better if you make a list of restaurants that can accommodate your restrictions, or you can try looking up an accommodation which contains a kitchen.
16. Japanese eating style might surprise you
For example, slurping is completely acceptable.
And quite often you need to sit on the floor. Ok, not directly on the floor – on pillows that are put on the tatami mats, but still. And even businessmen in expensive suits do this (and slurp the ramen so loud that it can be heard in a different room).
Plus, almost all the food is eaten with chopsticks.
Speaking of chopsticks: do NOT stick them in your, or anyone else's, rice and don't point with them. It's considered offensive in Japan.
17. Don't be rude to Geisha
Actually, don't be rude to anyone, ever.
But back to Geisha.
Many people, when going to Kyoto, hope to see a Geisha. The best ways to do this are either going to a Geisha show or trying to catch a glimpse of them going to work in the Gion district.
If you do see a Geisha, remember – they are people! Don't disturb them by taking pictures, asking for selfies, etc. Just, don't be rude.
18. Don't make too much noise when on a train
Many commuters use the time to catch up on some sleep, so don't talk too loudly, especially on your phone. If you really, really need to take that call, go to the space between the cabins.
One thing you should do, though, is offer a seat to anyone that might need it more, that is, pregnant women, older people and so on.
19. Stand on the left side of the elevator
So people that need to move faster can pass you on the right.
It's especially noticeable in places like train stations where people are sometimes hurrying to catch their connecting train. It actually looks quite amazing!
20. Dress somewhat conservatively and for the occasion
You won't see many Japanese women going around with their shoulders and cleavage exposed.
Pregnant women shouldn't accentuate their bellies with tight-fitting clothes.
Don't wear sports clothes, including yoga pants, if you're not going to use them for the intended purpose, for example, going to the gym or hiking.
Your best bet is to wear smart casual, as that will be the most accepted option. As a tourist, obviously, you will get some leeway, but why make the locals uncomfortable?
21. Always take your passport with you
As a foreigner in Japan, you need to carry an ID with you, and a passport is the best option for that. You can be randomly stopped on the street, and the fines for not having a passport (or a residency permit) are quite high.
Don't spoil your first time in Japan by leaving your passport in the hotel!
To conclude the tips for your first time in Japan…
Visiting Japan is always special, but the first Japan trip gives the biggest culture shock – in a good way.
Travelling in Japan comes with a lot of rules, but altogether is easier than you might think. Be mindful, and respectful, and use some common sense, and your first time in Japan will go on without a hitch!
Hopefully, these Japan travel tips were helpful to prepare you for the amazing place that is the Land of the Rising Sun!
---
Like it? Pin it!