Studying while travelling – 9 tips from a travelling student
Studying while travelling is actually not that hard.
Of course, it's easier to do if you're attending an online school, since it's possible then to study wherever.
But even if you're attending a "normal" school or university, it's not impossible. It just involves a bit more planning and quite a lot of self-control.
If you love travelling as much as we do, you might not want to wait for a school break to travel.
I completely understand! That's how I was as well.
I went on a trip while studying full time in a university – there was a test the day after I came back, and I was cramming what I could while flying back.
We went on a month-long honeymoon to South America (Chile mostly) while I was doing distance studies at a different university. That required a looooot of work before departing, and I still messed up a bit.
Hell, I finished a final presentation for my International Marketing course while in labour with Emma and did the final exam in the hospital!
And these are just a few examples. So, you see, I've got quite a lot of experience of studying while travelling (and not only travelling). So I'm pretty qualified to give out tips on studying while travelling – and tell you how to learn from my mistakes.
1. Do as much work as possible before going away
If you know that there's a paper due for the time that you're away, see if you can finish it earlier so it's one less thing that takes time away from your vacation.
Of course, it's harder when it's something like an exam.
But whatever you do, make sure to do as much as possible while you're still home.
And make sure to learn from one of my mistakes, haha.
When on our honeymoon in South America, I did a hell of a lot of work so that I wouldn't have to study. I was sooo proud of myself! I finished the semester in November – a month early, woohoo!
And only in a place in Patagonia which had next to no Wifi did I notice that I didn't submit a paper. And! I didn't have it saved anywhere! The teacher didn't care, though, and made me pay a fine so I could submit it later. Boooo!
Anyways, if you can't submit the work before you leave, take a copy of it on your laptop/phone/flash memory with you. And maybe save another one in the e-mail and in the cloud. Just to be sure.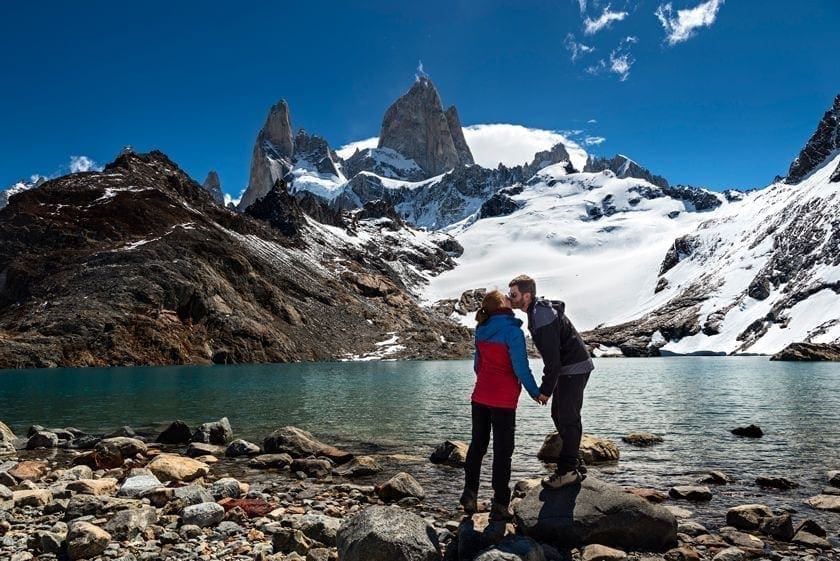 2. Make sure you're aware of the deadlines and what needs to be done
If you can't finish or submit all of the assignments before you leave, make a list of them and the dates they need to be done.
It's a good idea to add some notes to the list, such as what exactly is needed to be done, are there any special requests, and maybe even what books you would like to use as resources to make the packing easier.
3. Don't forget your study materials so you can study while travelling
I wouldn't take everything with me, really.
If at all possible, scan all the notes that you'll need for studying while travelling. It's much better than taking all of your notebooks with you!
For books, check if there are pdf or epub versions available. If not, can you scan the pages you need? Many libraries offer electronic versions of books, especially now. And you can find chapters for free on Google Books or sometimes even Amazon.
Make a backup of your files as well, for example, in an external drive or flash memory. This way, if anything breaks down, you still can do your work.
I usually take a notebook, some pens, and some markers with me as well to make notes. I'm a pen-and-paper kind of gal, though, so you might be ok with having just a tablet with you.
Basically, make a plan of what needs to be done and how you want to do it.
If you're not taking your laptop with you, make sure you remember all of the logins and passwords, as well as the website names, that you'll need.
And it doesn't only include your university's websites, but scientific databases as well, such as EBSCOhost or Emerald Insight.
For a student, the list of travel essentials is usually longer than for the casual normal traveller. But it doesn't have to be endless.
4. Charge and pack your laptop and other electronics
Again, if needed. I didn't always take my laptop with me, but if you want to study during your flight to the destination, it's a good idea to have it charged.
If you're taking any other electronics – Kindle, laptop, etc., make sure to charge those as well.
Don't forget the chargers, of course.
And! Make sure to check before departing that you have all the adapters necessary if the plugs differ from the ones in your home country. It is quite stressful to look for a place that sells those. Plus, they're generally more expensive since they're targeted at tourists.
5. Make sure that your electronics are travel-friendly
Let me just kind of go on a tangent for the previous point because it is quite important.
If you have a laptop like I do – 17in and more than 3kg – then know that it's not a travel-friendly device. Yes, of course, I'm using it because I don't want to spend money on a different one, but if I thought it out more before and did proper research on the best laptops for travelling, I wouldn't have bought this.
Another thing to consider is how long the battery life of your device is. If it's just a couple of hours, you miiiight be ok, but the longer the battery lasts, the SO MUCH better. If your transfer time is like 4 hours and your laptop can survive for one, it's very inconvenient.
So, if your device is not travel-friendly, what to do?
Well, it's of course always ok to take it and just use it at the place you're staying. That's what I do. I complain about how heavy and huge it is all the time, but I don't have a better option for now.
But there are other things you can consider.
First, can you use your phone or another device for reading the materials instead?
Would it be possible to write all the essays before or after the trip and do other things while travelling?
Can you print the materials or tasks instead of checking them on the computer?
All of those would be better alternatives for studying while travelling than carrying a heavy laptop whose battery wouldn't last long enough.
6. Is attendance an issue?
It's rarely a problem for distance students or those that attend online courses, but if you're a full-time student then make sure that missed lectures won't affect your final grade.
That's why I when studying at the full-time university, travelled either during long weekends or school breaks.
Another way is that you ask the teacher if it would be possible for you to miss the lesson – some might be understanding!
Otherwise, it's better to plan your trips abroad at a time when you don't have any school.
Or make sure to check that the missed attendance won't be an issue – there's usually some time you can miss, wink wink. Just check that it wouldn't become a problem later and you have enough absences for being sick or whatever.
7. Make sure your accommodation has reliable wifi
It might seem weird, but there are still places that have very unreliable Wi-Fi. Some don't have it in the rooms – only on common premises. And some don't have it at all!
This was quite an issue for us when we were visiting Sardinia this year. It took a lot of time to find places to stay which had wifi as well.
So, make sure to read reviews before booking your hotel. If you're still unsure about it, don't hesitate to contact the accommodation itself to ask about wifi.
You wouldn't want to run around the town looking for a place that has wifi to submit your paper.
If there really is no place in your budget that offers an internet connection, check out places like libraries or co-working spots. They might have free or cheap wifi.
8. Plan time for studying while travelling
Don't just think you're gonna study "sometime". It's important to actually plan a specific time for studying in your itinerary. Then, if you have unexpected free time on your hands, you can use that as well.
Maybe there's something you really don't want to do but the people you're travelling with would absolutely love to do?
For example, when we visited Sarnico in Italy, which is a place we lived in for some time and left our hearts at, we knew that Michal will want to visit some of his favourite hiking trails. He really is an active traveller, so it made sense.
I didn't want to go hiking (plus, it was kind of one of our babymoons – I was pregnant at the time), so I planned for it to be my study time.
One of the best times for studying while travelling is during transfers, though, for example, on a train or an airplane. I myself am rather car sick, so buses and cars are not an option for me, but if you don't suffer motion sickness, definitely consider those times as well!
Just make sure that you don't plan your most exciting and tiring adventures for the days when you have exams or essays to finish!
9. If you're still just contemplating if studying while travelling is possible…
Then, as you see, yes, it is! Just some planning is needed.
If you haven't yet started studying or even applied to a school, then make sure to do your research properly, though.
There are now many, MANY schools that offer online degrees and courses. That's the best option for studying while travelling as it gives you the freedom to kind of plan your own study schedule (with exceptions, of course).
And it might even help you with your studies.
There's language immersion if you're doing language studies.
For biologists or environmentalists, you can see the destinations that are relevant and spend some time in the field.
If you're studying international cultures, then what better way to experience them than to actually visit the places they're from?
The list could just go on!
The main thing is to find your passion – it's always a good idea when choosing your field of study.
In conclusion about studying while travelling
Well, the last paragraph actually was already quite a conclusion. But still, a little summary of the whole article is always a good idea, isn't it?
It takes a bit of work to make sure your travel doesn't interrupt your studies and your studying doesn't take over some much-needed travelling.
It was always quite stressful for me when I needed to finish a bunch of schoolwork so that I could enjoy some relaxation time. But now that I was writing this article, I came to the conclusion that it actually kind of prepared me for writing a travel blog!
I learnt to just push through a few busy-busy-busy days so that I can enjoy the vacations that we take properly. And if I can't finish it all before, I know how to find times for work.
And it is useful for everyone, especially since more and more jobs can be done remotely.
So, it's not just possible to study while travelling, it might even come in handy!
I hope my top tips are helpful for you! Is there anything you would do differently?
---