Venice in April: things to do and itinerary, in pictures
We've visited Venice multiple times, and my favourite was definitely the time we visited Venice in April.
It's just such a good time – the weather is nice enough for exploring, the crowds are still small, and the prices – not that high. So if you're wondering if it's a good time to visit, then yes, it is.
That's why for a bit of inspiration, I'm giving you a photo diary from our trip to Venice in April.
The pictures in this article are not exactly in the order of our 2 day Venice itinerary if you're wondering, because we arrived just after lunchtime on the first day and my painful period made some corrections as well. Plus, we were really taking our time exploring things. Of course, if it's possible for you, it's always a good idea to explore for longer! But really, we spent hours walking around the neighbourhoods and looking at sunsets.
Anyways, you can easily follow this "Venice in April" itinerary or the other one which is good for every season, they both cover the same spots.
For good measure, I'm gonna give you some specific information that you should know about visiting Venice in April in this article, with links to the respective articles that contain the information.
This post may contain affiliate links, which means that if you purchase anything via them, we might earn a small commission – at no extra cost to you. Check our affiliate disclaimer for more information.
Venice in April – the first day
We arrived by our car at the Marco Polo parking near Venice airport and took the bus (the stop is nearby) to the bus station on Piazzale Roma.
Since our hotel was in the San Marco area (Hotel Noemi), we decided to take the Vaporetto to the Rialto vaporetto stop – that's faster than walking.
And a vaporetto ride is actually a great way how to have the first introduction to Venice, especially if your hotel is somewhere further away.
A Vaporetto that goes on the Canal Grande goes under the Rialto and Accademia bridges, and towards the Santa Maria della Salute church. And since the weather in Venice is pretty mild, you don't have to hide in the covered areas and can take your first pictures of Venice.
Weather in Venice in April
The weather in Venice in April is just getting nice and warm after the winter.
According to different weather tracking websites, it ranges from approximately 8C lows (46.5F) to 16C highs (61F) degrees. When we visited Venice at the beginning of April, this proved to be pretty much true.
There's lots of sun already – 13 hours a day, to be exact.
And as opposed to visiting in summer or winter, the weather is nice and mild. That means you don't have to worry about being all sweaty or avoiding the very strong sun that Venice has in summer. On the other hand, you don't have to worry about all of the cold winter clothes that you'd have to take off and carry when visiting Venice in winter.
A comparable month to visit would be sometime in October, though, if you can't make it to Venice in spring.
After checking in at the hotel, leaving our luggage, and relaxing a bit, we went to San Marco's square. We explored it for more than an hour, checking out the details of the basilica, the fancy lanterns, and, of course, the numerous pigeons, haha.
But since it was coming close to 6pm already and Michal wanted to explore some possible spots for sunrise photography, we moved on.
First stop? Riva degli Schiavoni, more precisely, just by the Doge's Palace and Collona di San Marco by the Canal side.
This place gives you an incredible view of the San Giorgio Maggiore church with the gondolas parked just there.
Then we continued on towards Rialto bridge, stopping just by Palazzo Grimani – there are some piers where you can have a magnificent view of the Rialto bridge.
One of the most romantic things to do in Venice is a sunset gondola ride – there are many different kinds available.
And, since it was pretty much sunset already, we had to hurry to the Ponte di Rialto itself to secure a good spot for photography.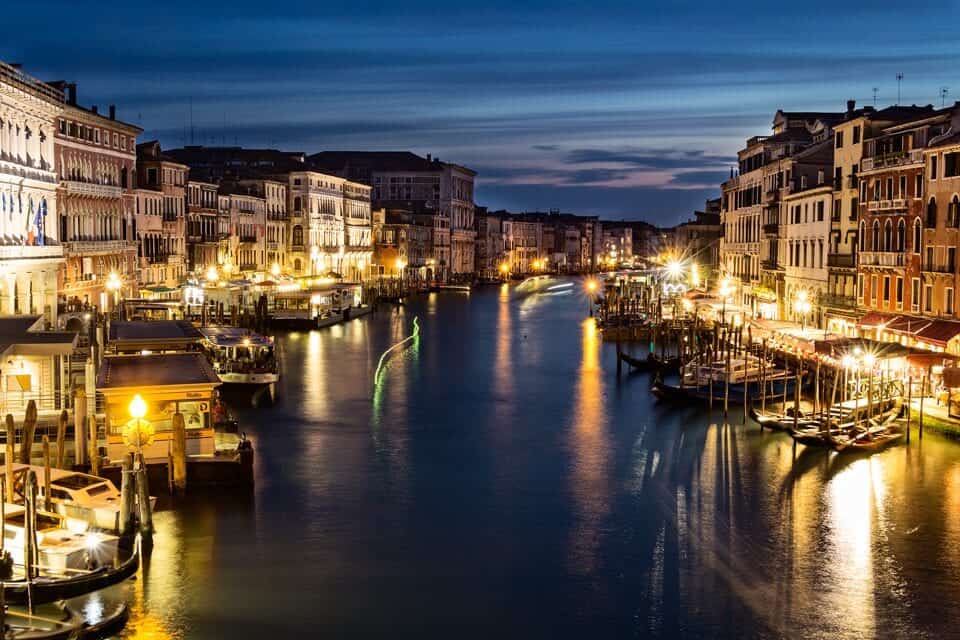 After sunset and putting the photography equipment down, it's time for dinner! Yes, dinner in Venice and the rest of Italy is quite late. Honestly, in less touristy places, it might be hard to find a restaurant that is open before 7pm!
What to wear in Venice in April
As for what to wear in Venice in April, I'd suggest layers. It's spring, so you know, at one moment, it can be nice and warm, and at another, a cold breeze comes that almost freezes you to the bone.
As you can see, I'm wearing a nice spring/winter coat and a scarf. Under that is a jacket and a shirt or a light sweater. On the other hand, when it was warmer, a thin undershirt and a button-up shirt was enough.
For Michal, he had a t-shirt and a spring jacket. He's always feeling warmer than I am, haha.
So the packing list for Venice in April would look something like this:
Clothes
– T-shirt
– Sweater or shirt
– Cardigan/light jacket
– Spring/autumn coat
– Jeans/pants
– Closed toe shoes
Accessories
– Scarf (I usually have a shall wrap)
– Sunglasses
– Hat
– Gloves
– Small bag
Just remember, backpacks are not allowed in the interior of different places, such as Basilica San Marco or Ducale palace, so have a small bag (camera bag, for example) with you.

Make sure to double check the forecasted weather in Venice before packing!

All of the other items that you need to pack for Venice you can find on our Venice packing list.
Second day of Venice in April
If you're an early riser, Venice in April is perfect for sunrise photography! Or, you know, just enjoying a sunrise.
There are many great spots for that and some of them we checked already the evening before, such as Riva degli Schiavoni and the Palazzo Grimani. Then again, just anywhere in Venice is beautiful for sunrise.
Related: one of the best hotels in San Marco with a canal view is just by this spot
After breakfast, both of us took a walk through the San Marco and Castello neighbourhoods towards the Fondamente Nove A (F.te Nove A).
Some interesting views in the San Marco neighbourhood include the Doge's palace and the Bridge of Sighs.
How busy is Venice in April?
April in Venice is just the time when the number of visitors starts growing.
It's not busy-busy yet for Venice standards, though. That means – you will most definitely not be alone, but it will not be too crowded. Some restaurants might require reservations, but many will not yet. Hotels don't have the high prices yet, but they are already rising in preparation for the season.
But the best thing about April in Venice is definitely the weather, as I said before.
On the way from the vaporetto, pay attention to the different views of Venice. They are quite unique, like this "Floating house", for example.
It's located in Venice's Castello neighbourhood, which is actually one of the best areas to stay in Venice. It's quite close to San Marco but more authentic.
But now, it's time to go to the colourful Burano!
In Burano, we enjoyed our time walking around and exploring the different streets and canals. The houses are really cute!
And you can try one of the restaurants out as well. They have quite good fish food on the island of Burano.
Since April is quite warm already, we enjoyed some of the spring flowers blooming.
After coming back from Burano, we went to the Accademia bridge to enjoy the view a bit and continued on to the Rialto bridge for sunset. And then, of course, the dinner.
Our third day visiting Venice in April
Just like the second day, Michal started our third day in Venice with some sunrise photography. That man is able to get up early if he wants to! I admire him really!
He got some incredible views from the Accademia bridge
And some smaller canals in the San Marco neighbourhood as well.
After breakfast, we went to do one of my favourite things in Venice – we went up on San Marco's bell tower.
I definitely recommend going up if the weather is nice, as you can see so many things.
Of course, there are the orange roofs of Venice.
And you can easily see the neighbourhood of Dorsoduro and the island of Giudecca.
The island of San Giorgio Maggiore
And so much more.
If you're up on the tower when the bells ring, know that it's LOUD. It's probably not the best to be up if you're sensitive to noises.
Does it rain in Venice in April? Or does Venice flood in April?
Of course, it can rain in Venice in April. Generally, it rains for approximately 7 to 12 days in April according to different sources. So although the chance of rain is quite small, be sure to pack some waterproof things.
As for the flood, it's not just rain that makes the acqua alta. And anyways, although the flood season is from end of September until April, the main months when the flood generally happens are from October to January. April, so, is rather safe.
If it does rain, though, there are still quite a few things that you can do.
After the bell tower, we went inside Basilica San Marco. It's definitely an interesting thing as well. The basilica is gorgeous!
And then we went on exploring the neighbourhood of Dorsoduro a bit as well. Definitely do it if you have time! There are many cafés on the side of different little canals where to enjoy a snack with a view, as well as a ton of gorgeous squares and churches.
First you need to cross the Rialto bridge. As you can see, it's a completely clear day – like many in April in Venice.
And then we went on to explore the little canals in Dorsoduro.
And gardens, by the way!
In case you didn't know, Venice has a ton of gardens. And if you're looking for something more unique to see and do in Venice, definitely check some of them out.
Of course, they're not as gorgeous at the beginning of April as they would be at the end of May or even in the summer, but still, they are worth seeing.
We finished the night with some Cicchetti and spritz, which should definitely be on your Venice food bucket list.
Last day in Venice in April
And, just like all the previous mornings, while I was still watching some dreams, Michal went to enjoy Venice without people.
He captured this gorgeous image of the Rialto bridge that morning.
The view from the bridge looked quite moody.
For our last activity in Venice, we visited the Rialto fish market.
Although it might seem weird to some people to go to a market during a trip, it definitely is worth it!
There are so many interesting things to see there. Everything from fish to [live] seafood, to fruit and veggies, and so on. Definitely quite special.
And with that, we had to say "Bye, Venice!" and we'll be back. And we did visit once more – in November. Article incoming 😊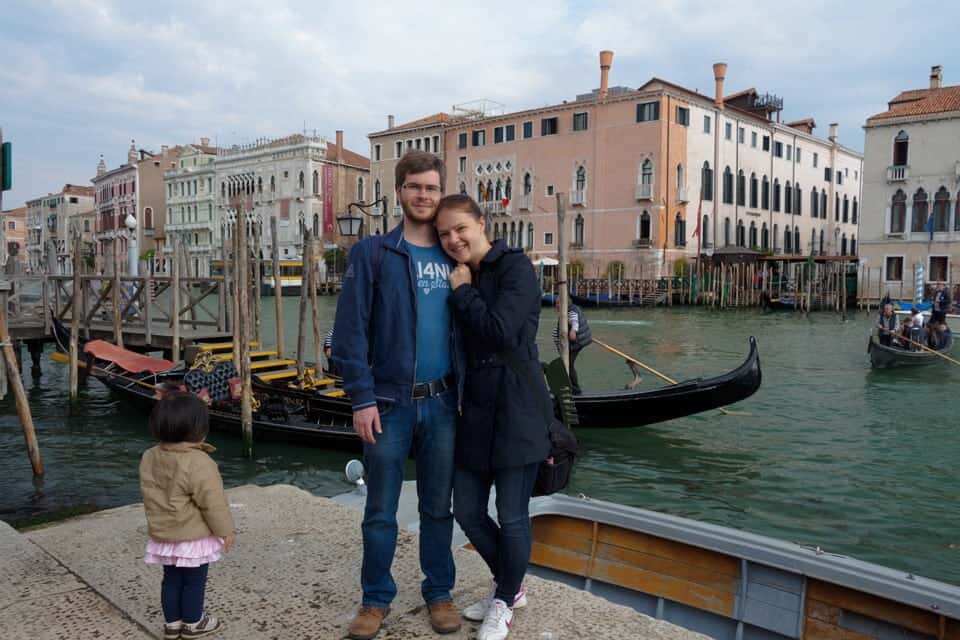 ---
Like this story? Share it!