What to pack for Venice and what to wear in Venice – must haves
At first, I was thinking of writing two separate articles, that is, What to wear in Venice and What to pack for Venice. But really, in my opinion, these two subjects overlap way too much to warrant two articles.
To properly enjoy Venice, you don't really need to take a lot of stuff with you.
I know that Italy is a fashion mecca, but in my experience – which is quite extensive – "normal" people dress like anywhere else in the world. Some look like they've just come off a designer runway, and some look like they just came from the gym.
So, let's dive in and explore what to wear in Venice and subsequently – what to pack for Venice, Italy.
This post might contain affiliate links, which means that if you purchase anything via them, we might earn a small commission – at no extra cost to you. Check our affiliate disclaimer for more information.
As an Amazon Associate we earn from qualifying purchases.
What to wear in Venice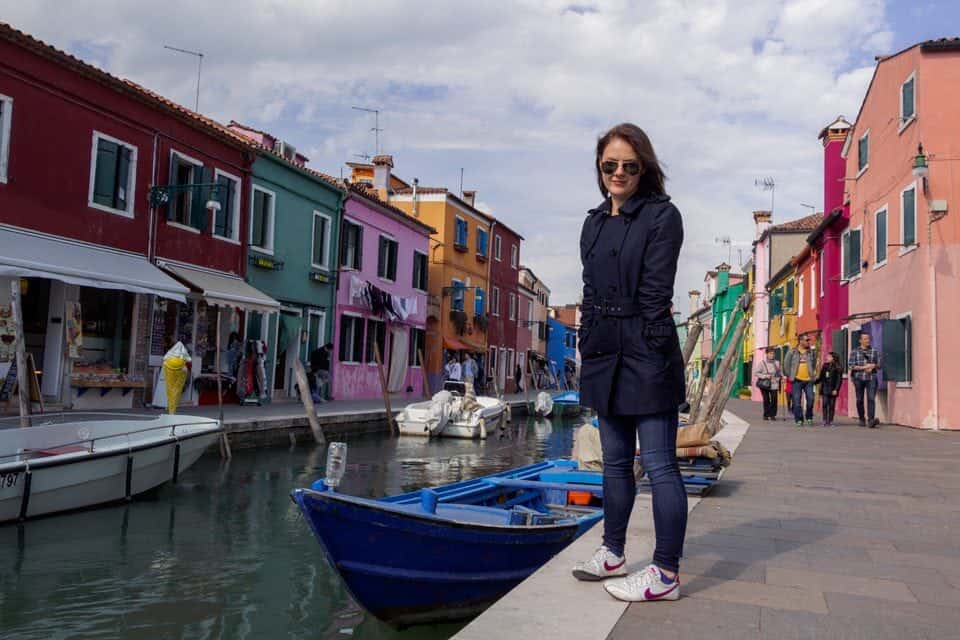 General tips for what to wear in Venice
One of the best things I've read about what to wear in Italy is – "don't compare your vacation attire to someone else's work attire". (If you find out where I read it, I'd appreciate you let me know! I love to give credit where credit is due.)
That means many Venetians are going to work while you're strolling around there just enjoying your holidays, so of course, they'll be dressing up in smart casual or even just smart.
So…
Don't overdress… or underdress for that matter
My go-to for every vacation, not just Italy, is – to dress in comfortable, clean clothes. Smart casual is good as well, but not necessary.
If you're going for dinner at a restaurant, then yes, smart casual is a good option. In a fancier restaurant or if you're going to an opera – then you need to dress up, true. Maybe not a full suit-and-tie attire, but definitely no jeans and t-shirts.
We visited Venice in the shoulder seasons, so pants, shirts or t-shirts, jackets/cardigans, and closed shoes were our go-to options. But really, as long as your clothes are clean, it should be ok.
Wear comfy shoes for lots of walking
Of course, the pictures of women in long flowy dresses and high heels on the charming Venice bridges look gorgeous, but… I really don't understand how these ladies don't break their legs.
If you want to look a bit less sporty, sandals are a good option. Until recently, I was quite against sandals, but then my friend showed Teva sandals to me. And then, of course, a ton of targeted ads showed up where lots of different cute sandals appeared.
There are good looking options out there! Who knew?!
Otherwise, sneakers, but ones that don't look too sporty, are a good option.
In winter or rainy seasons, make sure to have something closed-toe and waterproof. And warm as well.
Basically, choose shoes which have good cushioning, as you're going to be walking a lot. Comfy shoes which will not destroy your feet are essential.
What to wear in Venice when visiting a church
Churches, first and foremost, are religious sites, so be respectful when you visit.
To visit a church in Italy, you need to dress modestly.
The main dress code points, therefore, are:
Cover your shoulders – a shawl wrap works as well
Wear something that doesn't have a plunging neckline
No see-through or spaghetti-strap tops
Shorts/skirts below the knee
Avoid anything that is too revealing
You will probably not be turned away from visiting a church even if you're not following the dress code, but better be respectful and not risk it. In Basilica San Marco, though, you might not be allowed to enter.
What to wear in Venice in different seasons
Venice has four seasons – kind of. So make sure to pack according to when you're visiting!
Winter (December to February) in Venice is quite cold and rainy, and occasionally it can even snow there. So make sure to pack a hat, gloves, scarf, coat, and sturdy and warm shoes. When packing, remember that if you're visiting somewhere inside, you'll need to undress so that you don't feel too hot.
Spring and autumn: closer to summer, it is usually quite nice and warm, but closer to winter – rather cold and rainy. So make sure to pack an umbrella and waterproof clothes. Rain gear gets quite expensive in Venice when it's raining.
Summer is hot and humid with tons of mosquitoes. It's a good idea to wear light clothing – shorts and dresses are ok. Just remember that you need to cover up when visiting a church. Don't forget a swimsuit for the lido!
General Venice packing tips
Don't take a rolling suitcase with you.
Venice has cobblestone streets which means that it will be very hard to roll the suitcase on them. There have been legislations to ban wheeled suitcases but looks like nothing has really come into effect.
Anyways, no one is happy when someone pulls a suitcase on cobblestone streets: there's a lot of noise, the wheels of the suitcase can be destroyed on the cobblestones, and the streets themselves get damaged by hundreds of thousands of people pulling suitcases on them. So, let's be nice and carry our bags!
Pack light
Not just because you can destroy your wheeled suitcase or the cobblestone streets, but because you'll probably have to carry it around anyways. There are no taxis that could take you to your hotel, plus, you might need to carry it up many flights of stairs. Since many of the buildings in Venice are very old, they don't have elevators. So, pack only as much as you can carry.
It's always a good idea to have some raingear
I write this one everywhere, but – rain gear gets expensive in Venice when it rains. Especially in all of the small souvenir-type stores. And finding something in a normal store is almost impossible.
So make sure to pack something with you – whether it's a travel umbrella or a raincoat.
What bag to pack for Venice
If you've checked my Venice travel tips article, you know it's not allowed to take your backpack in places such as San Marco's Basilica. There are lockers for your bags, of course.
A suggestion – usually you can take a cross-body bag for your essentials when visiting places that don't allow bulky luggage.
That, then, rises a question – what day-pack should you use in Venice?
Well, when choosing one, keep these things in mind.
It should
fit a water bottle – keeping hydrated is very important, so make sure you always have some water with you
be big enough to fit your layers – so you don't have to carry them in your arms when it gets warmer
have safe pockets for your wallet and ID – a pocket which can't be easily accessed by pickpockets
Of course, it's ok to leave your bags in the lockers – they're quite safe, and it's more comfortable to have a backpack with you when out and about.
Venice packing list
Essentials to pack for Venice – and everywhere else
There's a bunch of essentials that you always need to take no matter the trip. Those are documents and electronics, first aid kit and hygiene products, and of course – clothes.
In short, the travel essentials include:
IDs,
any necessary documents and reservations,
wallet,
phone and chargers,
hygiene products,
basic clothes and underwear,
medicine and a first aid kit,
and of course, your camera!
Remember that Venice is completely car-free, but if you're planning on driving somewhere for, maybe, a road trip, don't forget your driver's licence!
And these are some Venice-specific travel essentials:
Comfortable walking shoes
Travel electronics adaptor for Italy
What to pack for Venice for different seasons
I shortly talked about what to wear in Venice in different seasons, but let's now put it in a packing-list-worthy, emm, list.
Remember, no matter what season you visit, it's important to check the weather forecast before you pack for your trip to Venice.
Winter – December to February
Winter in Venice is quite cold. And it's humid, which actually makes the cold more unpleasant.
The best bet, as I said before, is to wear layers so that you can take things off and put them on as needed.
So, what to pack for Venice for winter in addition to the essentials:
Waterproof boots
Scarf
Hat
Gloves
Coat or a waterproof winter jacket
Middle layer (cardigan or sweater)
Long sleeve t-shirts (or warm short-sleeve t-shirts)
Long pants, preferably winter
Thermal underwear, if you don't have winter clothes
Umbrella or other raingear
Shoulder seasons – spring and autumn (March-May and September-November)
Shoulder seasons, again, are wet and cold closer to winter and already warm closer to summer.
The weather is quite changeable, as it can be sunny at one moment and rainy at the next. And the days might be warm, but the evenings – quite chilly.
When we went in November, we pretty much needed winter clothes. As you see in the picture above, in April, Michal wore t-shirts and I had my spring coat on…
So pack accordingly – layers are your friend!
What to pack for Venice in shoulder seasons:
Short sleeve t-shirts
Middle layer (cardigan or sweater)
Waterproof jacket
Waterproof shoes
Scarf
Long pants (e.g. jeans)
Sunglasses
Umbrella
Summer – June through August
Summer in Venice is hot and humid, so it's important to pack some lighter items.
Plus, the sun is extremely strong so you need to be careful when out and about.
And there are many, many mosquitos!
What to pack for Venice in summer:
T-shirts
Shorts/skirts that cover your knees
Summer dresses – for those incredible pictures on the bridges
Sandals or other summer shoes
Sunglasses
A summer hat
A light scarf or a shawl wrap to cover your shoulders in a church
A light cardigan for the evenings
Beach items (towel, swimsuit)
Miscellaneous items to pack for Venice
There are some items that you can add to your packing list for Venice if they seem appropriate:
Water bottle – there are water fountains available
Accessories and jewellery – if there's one place where you can show off all the shiny things you own, it's Italy! Just a disclosure – as anywhere in the world, there are pickpockets in Venice.
Nightwear, especially if visiting in the colder months
Evening attire, if you're considering going to a restaurant
What to pack for Venice for kids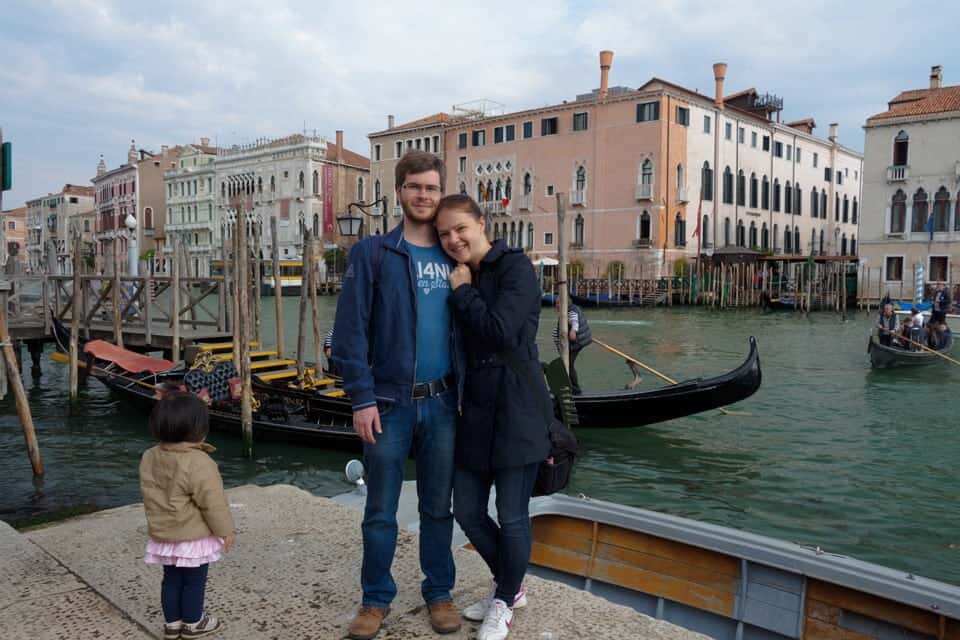 We haven't been to Venice since Emma was born, but, in my opinion, Venice might not be that toddler-friendly – too many unprotected canal sides, haha.
Although, on the other hand, it there are quite a few things that would be interesting for kids in Venice.
If you think Venice might be interesting for your kid (up to toddler age), consider taking these items for them:
A diaper backpack – much more convenient than a diaper shoulder bag
A baby carrier – Venice, with its cobblestone streets, bridges, and stairs, is not really stroller-friendly
Baby essentials – diapers, wet napkins, diaper cream, clothes, pacifier, soft toy, blanket, etc.
Kids-friendly sunscreen if travelling in summer or close to summer
Comfortable walking shoes if you have a little walker already
Hotels in Venice usually will provide cribs and restaurants – high chairs. But it's a good idea to check before going just to make sure.
Another thing – there are supermarkets in Venice where you can buy things like diapers, so no need to pack for the whole trip.
What to wear in Venice and what to pack for Venice – a conclusion
In short, what to pack for Venice really depends on what you want to wear in Venice, right? Otherwise, it's a destination like any other – packing-wise, I mean.
Visiting Venice should be on everyone's bucket list because the place is just incredible!
I hope you found this packing list useful – don't hesitate to ask any questions, if you have them.
I'm wishing you a great time in Venice! And I'd love to hear your impressions of the city of love – drop me a letter anytime at kristine [at] wanderlustdesigners.com!
---
Found this article helpful? Share it with others!